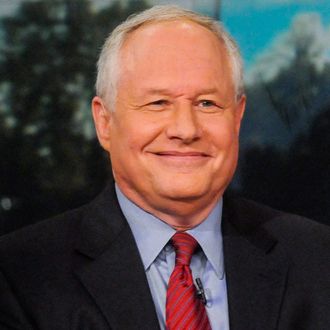 "I'm sure I'm right about this."
Photo: William B. Plowman/NBC
Donald Trump's decision to boycott Thursday night's debate has officially paid off. While some speculated that the billionaire's bizarre gamble would backfire, it is now clear that the odds of a Trump presidency have only improved over the past 24 hours.
At 10:58 Friday morning, Bill Kristol declared "Peak Trump" for the 11th* time this cycle.
Kristol is, of course, the anti-Nostradamus — a man gifted with the supernatural power to predict the exact opposite of any future outcome. One cannot list all of Kristol's errant prognostications without overwhelming the capacity of most web servers: Suffice it to say that this is a man who predicted that Barack Obama would never win a single presidential primary.
From the beginning of the billionaire's campaign, there has been no better contra-indicator of whether a given controversy would affect Trump than Bill Kristol's Twitter feed. One month after declaring his candidacy, Trump wisecracked that if John McCain were truly a war hero, he wouldn't have been shot down over Vietnam. Mocking American prisoners of war has not, historically, been a savvy political move. Many pundits wondered whether this would spell the end of the mogul's candidacy. But had they simply consulted the Wrongest Man in America, they would have immediately recognized that their concerns were unfounded. Kristol — through his special code, in which "Peak Trump" actually means "Trump is not in fact peaking" — explained it all.
Days later, Kristol saw a poll showing that Trump had reached 18 percent support and — again, in code — informed the public that this was only the beginning.
When Gallup found Trump's favorability numbers dipping, Kristol made it clear that Trump was still far from finished. He continued to provide similar guidance throughout the month of August.
For a disconcerting moment in the dog days of summer, Kristol appeared to have become self-aware.
But by November that phase had passed.
Over the winter holidays, Kristol took a break from predicting Peak Trump to describe how Peak Trump looked in two of the alternate universes his mind unconsciously accesses.
*This figure only accounts for instances in which Kristol has publicly declared Peak Trump over Twitter. Not all tweets included in this post qualify as Peak Trump declarations. Further, this number is not inclusive of the (presumably) countless instances in which Kristol has declared Peak Trump over dinner, muttered Peak Trump to himself while examining his hairline in a bathroom mirror, or quietly repeated the words Peak Trump over and over, as a soothing mantra, after waking from another nightmare about the war orphans of Iraq.