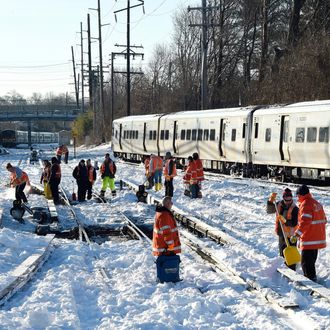 Snowpocalypse Now.
Photo: Kathy Kmonicek/AP/Corbis
New York City and the surrounding areas got blasted with a historic monster of a blizzard this weekend, along with the rest of the East Coast. But unless you're near Washington, D.C., where nobody seems to know what to do with snow, not many people — not even the kids — got a snow day Monday. 
But Winter Storm Jonas wasn't going to head out without leaving behind a little gift for everyone trying to get to work Monday: a commute from hell. First you must navigate the gaping slush puddles threatening to swallow your street, or you have to scale a mountain of snow. Once you make it to the subway or bus stop, you'll find most lines running, albeit with delays, which, truthfully, doesn't sound too different from a normal weekday. (Add to that a woman who got slashed on the 6 trian during rush hour today.) Commuter rails — specifically the Long Island Railroad — are supposed to be back up, but service is modified along many branches, and riders report long waits. So if you're lucky enough to work remotely, or want to commiserate about the miserable pit of humanity you experienced (or are experiencing) on the way to your office, here are some scenes of the people who braved public transit this morning. May all be blessed with long battery life and a high tolerance for both the cold and cramped spaces.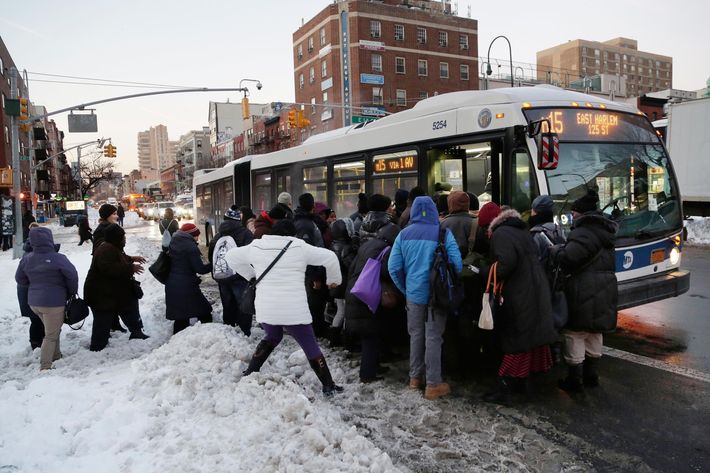 And the Worst Commuter of the Week award goes to …