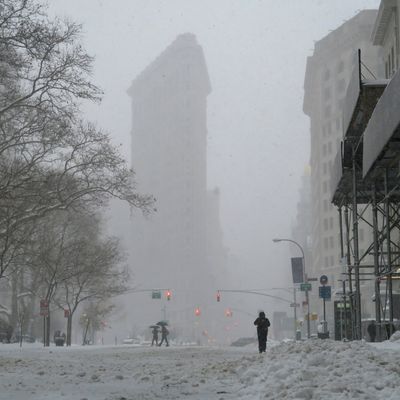 The blizzard's on Broadway.
Photo: Gary Hershorn/Corbis
(This post is no longer being updated, please head here for the latest on the storm's aftermath.)
The Latest
• As of midnight Saturday, a light snow is still falling in New York City, where a total snowfall of as much as 30 inches was forecast from the powerful storm. Regardless, it has already become the second-biggest snowstorm in the city's recorded history (since 1869). Snowfall in Central Park had reached 26.8 inches as of midnight, just one tenth of an inch short of matching the all-time record, which the storm will still likely break. In addition, Saturday was already the snowiest single day ever for the city.
• Washington, DC, has received nearly two feet of snow, while Baltimore recorded more than 29 inches, the highest total for the city since its snowfall records began in 1892. Snow accumulation in Harrisburg, Pennsylvania, also set a record, with 28.6 inches and counting.
• All non-emergency road travel is now banned in New York City and southern New York State and the Hudson River crossings are closed. The ban will last until 7 a.m. Sunday.
• All bus and above-ground rail/subway service in New York has been halted including outdoor subway routes, Metro North, and the Long Island Railroad. The subway and PATH train are both running in their underground sections. If you're still planning intracity travel, an updated subway map is here.
• The show will not go on. Saturday's Broadway performances were cancelled, as were most other performances and events across the city, and Mayor de Blasio encouraged all other businesses to close down as well.
• There has been record coastal flooding in New Jersey and Delaware, where ocean-side towns have had to endure multiple high tides over the course of the storm, breaching sea walls and surpassing levels last seen during Hurricane Sandy.
• It does not appear that New York City needs to be worried about coastal flooding.
• Governor Cuomo declared a state of emergency on Saturday morning.
• Pandas still love snow and it's always adorable, while DC cops played Frozen and a blizzard block party broke out in Brooklyn. See all those videos here.
• Skip to a specific section of this post: New York City, New Jersey, Washington, DC, and elsewhere.
The Overview
The 2016 Blizzard (a.k.a. #Snowmaggedon2016, Snowzilla, Make Winter Great Again, and "Winter Storm Jonas") continued to pummel a nearly 1,000-mile-wide swath of the East Coast throughout Saturday, dumping snow in many places at a rate of three inches per hour. The high-energy storm dropped well over 30 inches in some places, while also leaving nearly two feet of snow over a 24-hour period in Washington, DC, and at least 26 inches in New York City through mid-evening Saturday. While the storm is tapering off overnight into Sunday, snowfall will likely continue in multiple states into the wee hours, and snow was still coming at a rate of two inches per hour as late as 6 p.m. in New York. Overall, Washington, DC, and 11 states, including New York, are under states of emergencies, and their public officials have tried to convince the roughly 85 million people in the path of the storm to stay home and off the roads. A road-travel ban is in effect in New York City and downstate New York, and the only available public transportation in the city is via underground subway routes. So far, the highest snowfall total has been 40 inches, reported in Glengary, West Virginia, and the highest winds, recorded at Dewey Beach in Delaware, reached 75 m.p.h. For the rest of the region, winds averaged more than 30 m.p.h. with gusts over 50 m.p.h.
At least 18 people have been killed as a result of the storm so far, mostly in traffic accidents, but three New Yorkers died while shoveling snow as well. Scores of motorists have been stranded on interstate highways in Kentucky, Pennsylvania, and West Virginia, with some having to sleep in their cars while waiting for the snow to be cleared. The storm has also knocked out power for more than 200,000 homes and businesses, including 130,000 in North Carolina and around 100,000 in New Jersey. Looking at the airport tarmacs, more than 4,400 flights were cancelled on Saturday, for a weekend total of 6,300. 
Some parts of the coast have also experienced serious coastal flooding, in some places even worse than Hurricane Sandy. And by the way, yes, it is technically a blizzard, according to the New York Times. (Skip to here for more about the science behind the storm.)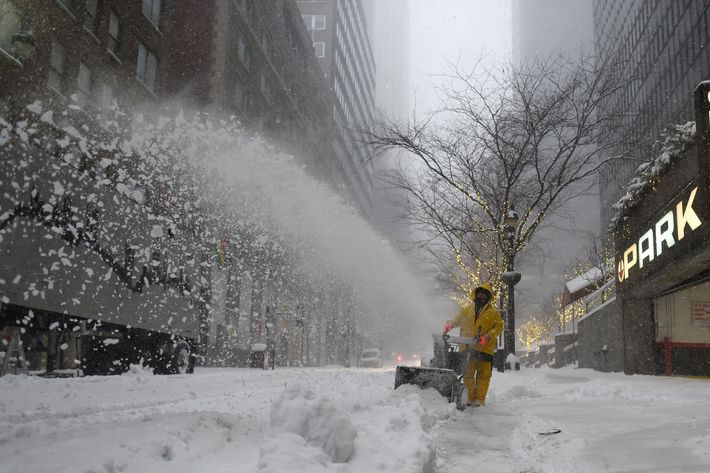 New York City
The storm continued past midnight in New York, though the most intense part of the storm began around 11 a.m and lasted until mid-evening. The blizzard warning for the city was originally due to end in the afternoon, but the intensity held as slow, powerful snow bands hovered over the city. All told, by the time the snowfall ends sometime early Sunday, the latest forecasts indicate the entire city will have ultimately receive between 25 to 30 inches:
Mayor Bill de Blasio announced on Saturday morning that the storm would now definitely be one of the top snowstorms ever to hit New York, and if it surpasses 26.9 inches (Feb 2006), it will be the largest in recorded New York history (i.e., since 1869). Since Central Park reported a 26.8 inch storm total at midnight Saturday, it may still take the top spot. That all being the case, de Blasio and Governor Cuomo closed downstate and New York City roads to non-emergency travel starting at 2:30 p.m. Saturday, and halted above-ground rail service, including all exterior subway routes, starting at 4 p.m. The travel ban will stand until 7 a.m. Sunday so road crews will have the entire night to work unencumbered, and the state of the rail and subway lines will be assessed at 6 a.m. Earlier Saturday, Cuomo had declared a state of emergency, as well. 
All Saturday's Broadway performances were cancelled, meaning there may be a new U.S. president by the time Saturday's Hamilton ticket holders get to see the show. Most other performances and events across the city were cancelled as well, and Mayor de Blasio has encouraged all other businesses to close down, too.
In addition, the zoos and libraries are closed, as are the beaches, in case you are a perfectly insane, blizzard-loving surfer (though people were snowboarding in Times Square on Saturday night). Fear not, however, there is likely still bread and milk available somewhere. The other good news? The city has 2,500 pieces of equipment committed to clearing snow, and workers have been at that job since 5 a.m. Saturday. Otherwise, temperatures were hanging out in the mid-20s, with the windchill via 40 m.p.h. gusts ending up around 10 degrees Fahrenheit, and all weekend meteorologists have been so, so excited:
Does New York need to worry about a Hurricane Sandy–caliber storm surge?
No, according to Slate meteorologist Eric Holthaus, who has been chatting with Columbia professor and Sandy expert Adam Sobel today. Today's instances of record-breaking coastal flooding today have mostly been along the southern New Jersey coastline, but for a time it looked possible that low-lying places like JFK airport and some sea walls in Manhattan and Brooklyn could have been breached during the afternoon high tide. 
I have to get somewhere in New York, for some reason, how do I do that?
Well, if you're not planning on walking or biking, then you're stuck with underground subway routes until at least 6 a.m. Sunday morning, and if you live in huge sections of Brooklyn, Queens, the Bronx, or all of Staten Island, that means you're basically screwed. The B, C, M, Q, Z, and 5 are all out of commission until further notice. Other trains that use above-ground tracks are truncated as well, so, as an example, Brooklyn bound F trains terminate at Jay Street. No trains over the East River bridges either. But if you simply have to get to that blizzard-themed party on Saturday night, Governor Cuomo released this handy updated map:
Regarding New Jersey travel, the PATH train is still running, but not system-wide. World Trade Center to Grove Street is still operating in both directions, as is Grove to 33rd Street via Hoboken in both directions. Service to and from Newark is suspended due to snow-removal efforts.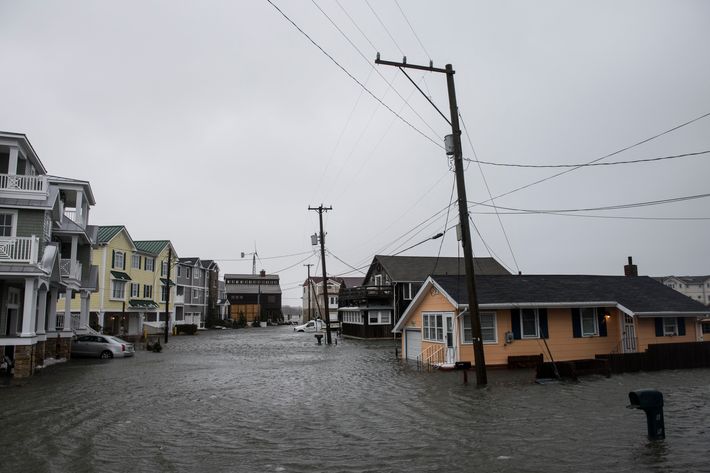 New Jersey
Governor Chris Christie, who hit pause on his presidential campaign to return home to handle the storm, announced on Saturday that everyone is going to be fine. "You'll be fine … You'll have a lot of shoveling to do," he assured residents at a midday press conference. NJ.com reports that he also announced that 90,000 New Jerseyans were without power as a result of the storm. Christie had previously declared a state of emergency for New Jersey on Friday night. With the road-travel ban coming into effect on Saturday afternoon in New York, the Hudson River crossings closed as well. The PATH train is still operating via its underground sections, however, so World Trade Center to Grove Street is still running in both directions, and you can get to and from 33rd Street via Hoboken as well. More on the PATH service changes can be found here.
Flooding has been a big problem on the Jersey coast, however, thanks to the storm's high northerly winds, which have been clocked at more than 60 m.p.h. along the coast, and high tide. At least 50 people had to be evacuated from their homes in Atlantic City, and record flooding is already happening along the southern shore and in Delaware: 
Furthermore, with another high tide hitting around 8 p.m. Saturday night, there were fears that even worse flooding was on the way.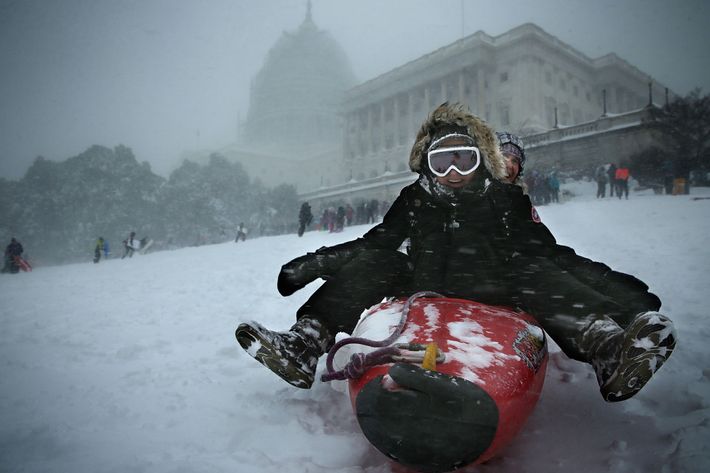 Washington, DC
The capital region has already gotten nearly two feet of snow and will end up with around 24 to 30 inches after the snowfall ends overnight Saturday. Much to the envy of Tea Party Republicans, the storm has mostly shut down the city, and all public transit was halted before the storm even hit. City officials say the digging out will begin Sunday, but do not yet know when public transit, schools, or the city's airports will reopen. The blizzard will definitely be in the city's top five all-time, No. 1 all-time if it officially surpasses 28 inches. Overall, according to the Washington Post, "snow totals have reached 22-35 inches west, north, and northwest of the Beltway, 18-24 inches inches inside the Beltway, and 10-20 inches south and southeast of the Beltway." At least the pandas are happy:
And DC cops are having a good time too:
Meanwhile, back in Brooklyn:
Then again, the DC region had thundersnow:
Elsewhere
Snowfall has surpassed 30 inches in some areas of the mid-Atlantic region, namely Virginia and Maryland, while the storm record so far, 40 inches, occurred in West Virginia. Sections of interstate highways in Kentucky, Pennsylvania, and West Virginia were all reduced to parking lots at various points in the storm. Motorists in Kentucky were stranded for as long as 19 hours, and drivers on one part of the Pennsylvania Turnpike were stranded overnight in their vehicles as well. In Baltimore, where a record-breaking 29 inches of snow has fallen, non-emergency road travel was banned until Sunday morning, and whiteout conditions occurred throughout the region on Saturday. The almost 29 inches in Pennsylvania's capital, Harrisburg, also broke a record.
So why is this storm so big and so potent?
Jeff Halverson, of the Washington Post's invaluable Capital Weather Gang, drops some science on what he calls a textbook snowstorm:
Combine a very energetic jet stream disturbance with warm, Gulf Stream water, a deep sub-freezing air layer, and tropical moisture, and what you get is an East Coast snowstorm for the record books. …

The storm is called a nor'easter, or coastal low — a wintertime breed of mid-latitude cyclone powered by contrasting air temperatures. The Arctic air mass that recently invaded the mid-Atlantic, combined with an unseasonably warm Gulf Stream just offshore, will provide the necessary temperature contrast.
In other words, its scientifically a perfect winter storm, and that's great news for meteorologists, five-year-old sledding enthusiasts, and climate-change deniers who used to host dating shows:
This post has been, and will be, continuously updated throughout the storm.