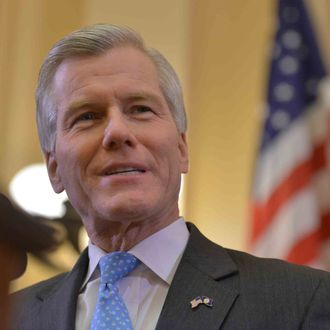 He's back.
Photo: Jahi Chikwendiu/The Washington Post/Getty Images
Former Virginia governor Bob McDonnell was sentenced to two years in prison after being found guilty of 11 charges of corruption in 2014. However, he hasn't reported to jail yet, as the Supreme Court was deliberating whether to consider his appeal. Today, the justices decided it would be a good idea to rehash the case, which involves a long list of very fancy gifts, vacations, and loans that he and his wife accepted (the couple's lawyers put much of the blame on Maureen McDonnell) from a diet-pill-hawking entrepreneur who wanted to have friends in high places, as well as many sad revelations about the couple's marriage that the McDonnells shared in the hope it would help their case. ("It makes me very sad. I am lonely sometimes. I want to be in love, not just watch movies about it.")
McDonnell's lawyers argued to the Supreme Court that the decision "criminalizes ordinary politics, turning nearly every elected official into a felon," and that the Citizens United decision was proof that access wasn't a crime. Basically, the Supreme Court has to decide if what McDonnell did looks like textbook bribery, or whether the definition was so broad as to be meaningless in his trial. NBC News notes that this development has put Maureen McDonnell's appeal process on hold for the moment.
The case will reportedly be heard in April, with a decision likely to happen in June.
Bob McDonnell was once considered a likely 2016 presidential candidate.