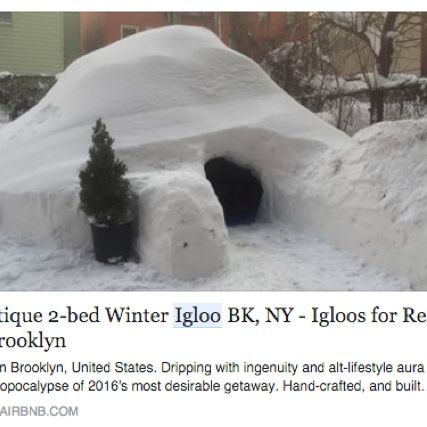 Buried under one of the largest snowstorms in New York City history, some Brooklyn residents made the most of the situation by building an igloo — and, because it's 2016, listing it for rent on Airbnb.
Patrick Horton, 28, and his friends built the "boutique winter igloo for 2" in a backyard on India Street in Greenpoint, according to DNAinfo New York. They had been planning to build an igloo after the storm hit, and decided it looked so good that they might as well list it on Airbnb as a prank.
Horton advertised their handiwork as "dripping with ingenuity and alt-lifestyle aura," and "this snowpocalypse's most desirable getaway." 
"Built completely by hand all natural. Come experience this chic dome-style bungalow with Bae," he wrote. And, of course, he checked the box for the "igloo" category, which is a legitimate thing on Airbnb.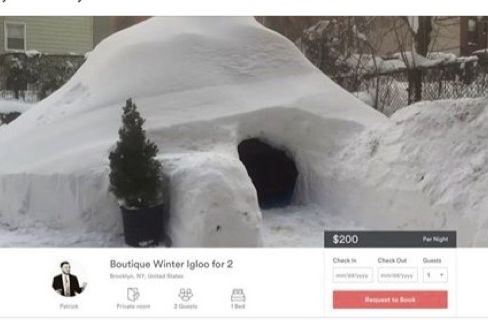 Rental price: $200 per night. An alt-lifestyle can be expensive to maintain.
The listing stayed up for a few hours, making the rounds on Reddit and Facebook, before Airbnb finally shut it down Sunday night due to building codes.
Got shut down by @Airbnb for not meeting occupancy standards. Though they were nice enough to tell us that it looked very well constructed.

— Patrick M. Horton (@patrickmhorton) January 25,

 

2016
"We are happy to see that you guys are staying busy and having fun during Blizpocalypse," Airbnb wrote to Horton, according to DNAinfo. "Unfortunately, your igloo, while very well constructed, has failed to meet our occupancy standards and has been removed from search results. Be sure to pick a place with running water, electricity, and a roof that doesn't melt."
Mere technicalities, really. There have certainly been less hospitable Airbnb properties for rent in Brooklyn.
And with the way rents are going, igloos are starting to look like an attractive alternative to some people.
New studio apartment in NYC on the market. 2,500/mo pic.twitter.com/1y2px3QudO

— Denny P. (@_Dopeee_) January 24,

 

2016