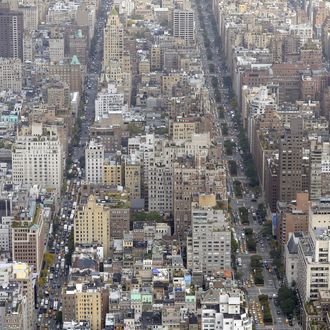 Way out of your price range.
Photo: Timothy A. Clary/AFP/Getty Images
Note to Brooklyn and Queens buyers: Why not rent instead? The sales market there is, like Manhattan's, as heated as ever, according to fourth-quarter market reports released today for the two outer boroughs. Both the average sales price ($808,121) and the median sales price ($650,000) for Brooklyn jumped 6.8 percent and 11.1 percent from the same period in 2014, according to Douglas Elliman; the price per square foot for a condo crossed to the thousand-dollar mark — $1,059 specifically — for the first time ever. And, per Brown Harris Stevens, townhouses also set an average price-per-square-foot record at $411.
It's not over, either, with the market still testing out where its price ceiling is. "We're still seeing this upward push," says appraiser Jonathan Miller, who prepared the Elliman report, and unlike Manhattan, where the astronomical prices are somewhat skewed by shiny new condos, Brooklyn's aren't. (For comparison, 4.3 percent of all sales in the borough were new developments; in Manhattan, 18.6 percent, he says.)
Because Brooklyn's gotten so expensive lately, Queens is benefiting from what Miller dubs the "Brooklyn spillover." He says the borough has become "a key beneficiary of the search for affordability." The number of sales for the borough jumped 32.7 percent to 3,436, and the median sales price saw a 9.2 percent spike to $470,000 (more affordable than Manhattan and Queens, for sure, but still a high number requiring a nearly $100,000 — a.k.a. 20 percent — down payment to buy for many places). Properties sold the fastest they've ever had since Miller has been tracking the borough; it takes an average of 57 days to sell a listing in Queens now; the previous year, apartments lingered for 97 days on the market.
Meanwhile, the rental market's seeing some weakness of late. Even taking seasonality into account, the rental market is a little more forgiving than usual, with Manhattan vacancy rates nearly kissing the 2 percent threshold. While that may not seem like much (and, to be clear, the situation is not dire), Gary Malin, president of Citi Habitats, says that's actually a lot for Manhattan, higher than the year before and the previous quarter. In coveted neighborhoods like the East Village and the West Village, the numbers are worse — 2.96 percent and 2.55 percent respectively. (The popular Upper West Side clocks in at 2.24 percent.) "At a certain point, no matter how much someone wants to live in a certain location, they're getting priced out," he says.
Put simply, rents may have just gotten too damn high, and tenants are balking. The average price of a doorman studio in Manhattan in the fourth quarter of 2015 was $2,895, per Citi Habitats' report; $4,010 for a one-bedroom; $6,236 for a two-bedroom; and $7,691 for a three-bedroom. (Walk-ups aren't that much cheaper, at $2,287 for a studio, $2,759 for a one-bedroom, $3,537 for a two-bedroom, and $4,892 for a three-bedroom.) "I think that the writing's been on the wall since the summer, and prices have gotten too out of control for tenants," says Malin. "The reality is [landlords] are doing well, but prices have gone too high. Traditionally, this is a slower time. But unless owners start pricing down or offer incentives, these market conditions are likely going to stay through the winter months.
Elliman's survey for December saw Brooklyn's median rents fail to see any year-over-year growth for the second consecutive month. In Queens, the median rental price dipped 10.1 percent to $2,551. And in Manhattan, it took five days longer in December for landlords to find new renters, going from 51 days the year before to 56.
Exacerbating the problem are new rentals rising that lean heavily toward luxury (read: expensive). "The product that we're building doesn't match demand," says Miller. "A new college grad comes to the city, are they going to rent a $7,000 two-bedroom? Is someone going to pay $5,000 for a studio? It's a disconnect."