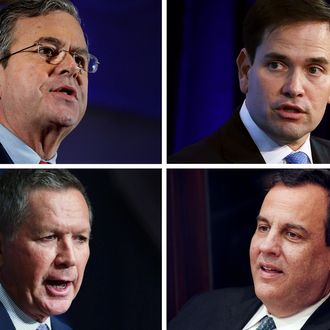 Why should any of these gents drop out when there's a favorable poll and a donor at hand?
Photo: Getty Images
In New Hampshire — the battle for supremacy and survival for would-be "Establishment" Republican presidential favorites Jeb Bush, Chris Christie, John Kasich, and Marco Rubio — recent polls have been a lot like what Mark Twain once said of New England weather: If you don't like it now, wait a few minutes.
There have been some constants: In the last ten published surveys, Donald Trump has been the leader in every one, by an average of 17 points.  Non-Establishment candidate Ted Cruz has run second in five of them.  
In the crowded "Establishment lane," John Kasich and Jeb Bush each have one poll in the last week showing a big, sudden surge into second place. How each of these candidates performs in Iowa (with Marco Rubio the only one even remotely threatening the Big Two of Trump and Cruz there) could affect their viability in the eight days that will remain before New Hampshire votes. And nobody's holding back on spending. Kasich and Christie have put all their chips on New Hampshire, with more than $10 million each in ads. Team Rubio has spent a bit less in the Granite State but has put about $12 million into Iowa. And Bush's Right to Rise super-pac has outspent everybody in both states.  
The irony is that the viability of any of these candidates depends on the early demise of the rest of them, and then a three-way race against Trump and Cruz (or, if they are really lucky, a one-on-one with one of them). Barring total disaster, though, Bush and Rubio are likely to hold on until the potential safe haven (or final resting place) of their home state of Florida with its winner-take-all delegate haul on March 15. Kasich will try to survive until the same day, when his own home state of Ohio also has a winner-take-all contest. None of them has any reason to drop out after Iowa — so much for the usual "three tickets out of Iowa" clichés — and even New Hampshire may only be a sudden-death proposition for Christie (who's running a pretty consistent sixth in polls there). How the various candidates perform in Nevada, South Carolina, and the "Super Tuesday" primaries on March 1 will depend on money, candidate stamina, and how they and everybody else fare in the first two states — and in the remaining candidate debates that always hold out the promise of a star turn and then a media and donor windfall.  
And speaking of debates, Thursday night's Fox News tilt, dominated as it was by Trump's refusal to attend, could either intensify the Establishment gridlock or show the way to a resolution. Bush was generally viewed as having one of the better performances. Kasich and Christie also had their moments, as did Rubio, seen by a plurality of observers as the "winner" in an uneven and sometimes underwhelming event. The one clear loser was Cruz, and that could continue to sap his recently formidable momentum, both in Iowa (where Rubio's not far behind him in most late polls) and in New Hampshire. The most galvanizing possibility is that Rubio could edge out Cruz for second place in Iowa, use the "bounce" to move to the front of the line in New Hampshire, and then get the one-on-one competition (with Trump in this case) all of the Establishment candidates crave. On the other hand, if Cruz, with his great Iowa organization, hangs on to second place but trails Trump handily, Republicans will face the specter of a Trump "run-the-table" scenario.  
When comparing these candidates and contrasting them to Trump and Cruz, it's important not to lose your bearings and consider them moderates. All of them favor significantly more regressive taxes. All of them are on record supporting big negative changes to Social Security, Medicare, and Medicaid, among other domestic spending cuts. And, as a matter of fact, all of them are significantly more likely than Trump or Cruz (or the nonviable Rand Paul) to get the U.S. into a Middle Eastern land war by suppertime on Inaugural Day. One of them, Marco Rubio, has a voting record hard to distinguish from Cruz's, and actually joined the fiery Texan in many of his gestures of defiance against the Senate GOP leadership.
But substance aside, they are all more acceptable to Republicans who aren't highly self-conscious "movement conservatives" (and thus likely to be fond of Cruz) and who haven't fallen into Trump's rabbit hole. There are many theories as to why the Establishment has been unable to unite behind one of them early enough to avoid a "traffic jam" in the same lane; Ross Douthat has just penned a column offering multiple reasons the most obvious choice, Marco Rubio, has been unable to seal the deal after Jeb Bush faltered so badly. It may well be that, despite the prevailing wisdom that "the party decides" nominees via elected official endorsements, donor pressure, and signals to the rank and file, the Establishment actually doesn't have the power to winnow the field among its own favorites so long as each has a super-pac, a promising poll, and the abiding reflection of the Next President of the United States in every mirror.