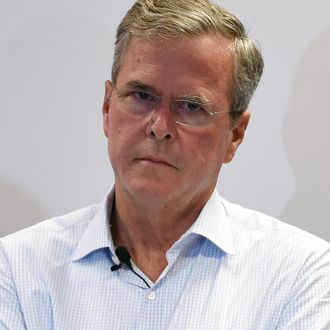 Come on, Jeb.
Photo: Ethan Miller/Getty Images
A year ago both Scott Walker and Rick Santorum got in trouble for questioning President Obama's religious beliefs, and now Jeb Bush is reviving the tacky trend. On Tuesday, reporters asked Bush to weigh in on the strength of Trump's Christian beliefs in light of Jerry Falwell Jr. endorsing the front-runner rather than Bush. "I don't know what he is," Bush answered. "I don't think he has the kind of relationship he says he has if he can't explain it any way that shows he is serious about it."
Bush is not the first to note that Trump's claims about his faith are a bit incongruous. For instance, he recently cited "two Corinthians," rather than "Second Corinthians," and has said he doesn't think he's ever asked God for forgiveness. "Accepting the fact that we make mistakes and seek forgiveness, that's one of the tenants of Christianity that everybody can agree on," Bush said. "We're all sinners. Some more than others."
Still, it's a bit disappointing to see Bush questioning a rival's religious convictions. We just don't think he has the kind of relationship he says he has with his dad if he can't stop stooping to sleazy political attacks.