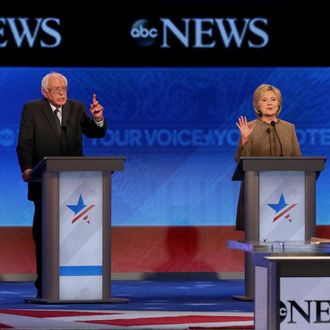 Even if Sanders upsets Clinton in Iowa and New Hampshire, she's likely to get some southern comfort.
Photo: Andrew Burton/Getty Images
Bernie Sanders's potential "path to the nomination" is obvious enough at its beginning: He needs to win or do better than expected in Iowa on February 1, then win New Hampshire eight days later. This will give him an overwhelming head of steam as the contest moves to — oh, wait. 
Yes, the race moves south after a brief detour to Nevada (a caucus state where Clinton has a 3-2 lead in the two polls taken so far and heavy labor support). South Carolina kicks things off on February 27, quickly followed by the so-called SEC Primary (Alabama, Arkansas, Georgia, Oklahoma, Tennessee, Texas, and Virginia). Yes, four non-southern states (Alaska, Massachusetts, Minnesota, and Sanders's own Vermont) will also hold contests that day, but the southern states have nearly four times as many total delegates and will get the lion's share of attention. Michigan and Mississippi follow on March 8, and then, on March 15, Florida, Illinois, Missouri, North Carolina, and Ohio. What these March 8 and March 15 states share with the South is a relatively heavy presence of minority voters in Democratic primaries. 
And therein lies Bernie's problem: a complete lack of any demonstrated ability to appeal to African-American and Latino voters, as compared to Hillary Clinton's long-standing ties to minority communities and their leaders.  
Sanders has obviously not had much opportunity to show such an appeal, having spent his long political career entirely in lily-white Vermont. But he has to be haunted by the history of previous liberal candidates who've found themselves in a "wine-track" ghetto of professional white voters and struggled among minority voters against more moderate Democrats in primaries. Familiarity with and cultural affinity to candidates aside, African-Americans and Latinos just aren't that ideologically liberal. So peeling them away from Clinton could be difficult. 
It's generally accepted that Clinton would have won overwhelmingly among African-Americans in 2008 had the first viable African-American candidate not not been running against her. She actually beat Obama among Latinos quite handily. And she's now picked up where she left off. Clinton has already been endorsed by (according to my own back-of-the-envelope calculation) 35 of the 46 members of the Congressional Black Caucus, and by 15 of the 24 voting members of the Congressional Hispanic Caucus. Sanders has one endorsement from each of these groups. In South Carolina, the most recent poll shows Clinton leading Sanders among African-Americans by a 4-1 margin, the main reason she leads him 67-31 overall.  
After an extensive tour of the South over the holidays, the Washington Post's James Hohmann reached this conclusion:
Several Republican secretaries of state in the region worked together to move up the contests so that the South would have more clout. While their primary focus in creating "the SEC Primary," named for the college football conference, was prodding the GOP to choose a more conservative nominee, the unintended result has been to give the Democratic frontrunner a firewall in case things kick off poorly.

"I believe Hillary is a lock to sweep the Deep South," said Richard Fording, the chair of the political science department at the University of Alabama.

This was a common sentiment I heard during nine days in the South over the holidays. It's backed up by what sparse polling there is and conversations with leading Democrats….

Clinton has a near monopoly on support from the Democratic establishment in the South. She has spent years improving relationships that were frayed during the brutal battle with Obama.
And so the irony continues in both parties: Even as Establishment Republicans pray their more electable options emerge to defeat Donald Trump and Ted Cruz once the GOP primary calendar turns to blue states, the Democratic front-runner's firewall is to a considerable extent in states she is unlikely to carry in November. 
If Sanders does sweep the first two states, you can expect to hear a lot about the 100 percent winning record of past candidates who have pulled off that feat. And that hype could in itself tighten things up in the March primary states where Sanders now looks like toast. But unless he can become competitive among minority voters, even the quickest start might come to an abrupt halt in March.