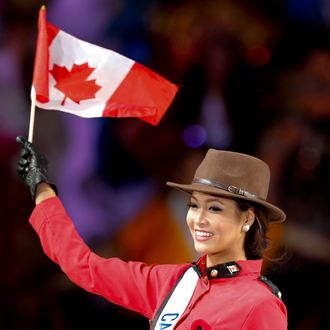 Oh, Canada …
Photo: Thomas Peter/Reuters/Corbis
Can someone check on Canada, please? Judging from the crime stories coming from our northern neighbor this week, things are getting weird …
Drug Mushers
Early on Wednesday, a Quebec man vacuum-sealed almost 200 pounds of Xanax, packed them into a white camouflaged duffel bag, threw them onto his sled, and headed for Vermont. He made it all the way to North Troy, Vermont, before getting apprehended by U.S. border protection. Authorities said they found 300 individually sealed bags of the anti-anxiety medication.
Multiply by 3,000 Your Pleasure, Multiply by 3,000 Your Fun
Police in Markham, Ontario, released surveillance footage on Friday of a man stuffing garbage bags full of chewing gum from a local convenient store. The man calmly walked out with two bags full of sticky, sugary chewables and loaded them into a taxi waiting outside. Police estimate that he made off with more than $1,500 dollars in chewing gum (the equivalent of 3,000 packs of Juicy Fruit).
Ocean's Eleven
Sometime between Tuesday and Wednesday, 48,000 pounds of lobster was stolen in Nova Scotia. Police say 48 crates, each holding 100 pounds of lobster, went missing from an outdoor pond at a business in Cape Sable Island, Nova Scotia. This isn't even the first major shellfish heist in the past month: Back in December, 14,000 pounds of lobster was lifted from Morris Island Wharf.
Surefire Ways Not to Win the Powerball
A Canadian woman was apprehended at the U.S. border, just north of Niagara Falls, on Friday when police dogs sniffed out 50 pounds of pot stuffed inside of her foosball table. U.S. border patrol said the weed she was smuggling was worth about $60,000. She told officials she was headed into New York State to buy Powerball tickets.