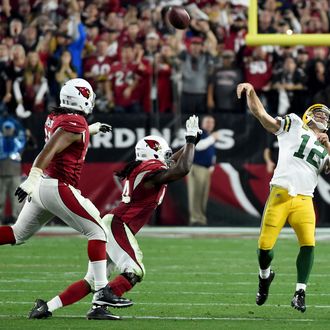 Aaron Rodgers's heave at the end of regulation.
Photo: Norm Hall/2016 Getty Images
With time expiring in regulation and the Packers trailing the Cardinals by seven last night, Aaron Rodgers launched an off-balance Hail Mary pass from about his own 45-yard line — one that, incredibly, was caught in the end zone by Green Bay wide receiver Jeff Janis. The extra point with no time remaining in the fourth quarter sent the game to overtime — but after a controversial coin-flip and a huge play by Larry Fitzgerald, the Cardinals would advance to the NFC title game anyway with a 26–20 victory.
Here's Rodgers's miracle heave at the end of regulation:
Minutes later, Rodgers called tails during the standard pre-overtime coin flip, and complained to referee Clete Blakeman when the coin landed on heads without actually flipping in the air. The NFL's rule book apparently doesn't include a requirement that the coin actually flip, but Blakeman quickly picked the coin up and tossed it again. The Cardinals again won the toss when the coin landed on heads, but Rodgers was upset that he didn't get to call make a different call for the second flip. After the game, he indicated that he would have called heads the second time.
The NFL overtime rules allow the team that gets possession first to win if they score a touchdown on that initial drive, and the Cardinals wasted no time. On the first play from scrimmage, Carson Palmer hit a wide-open Larry Fitzgerald with a pass at about the Arizona 35, and Fitzgerald's incredible run after the catch took the ball all the way to the five-yard line.
Two plays after that 75-yard gain, Palmer hit Fitzgerald again, this time with a little flip pass, to send Arizona to the NFC title game.
Arizona will play the winner of today's Seahawks–Panthers game.