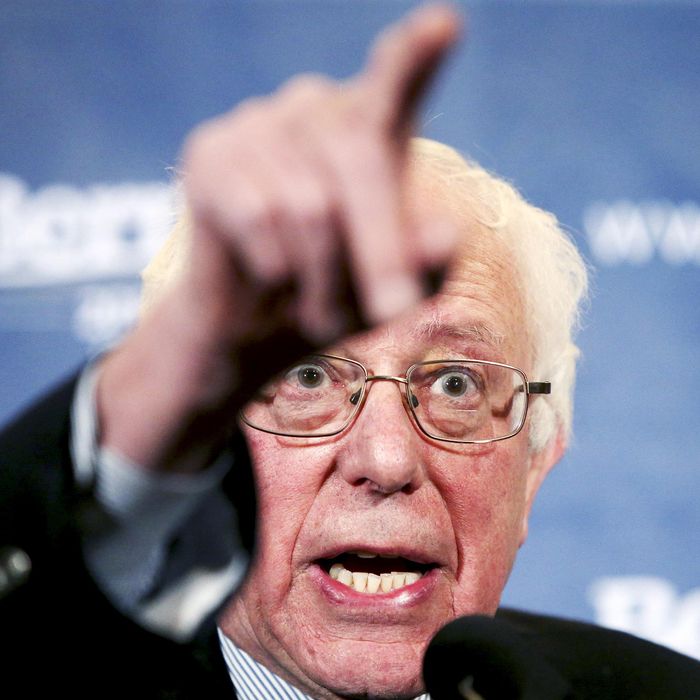 Bernie Sanders.
Photo: Mary Schwalm/Reuters/Corbis
Until very recently, nobody had any cause to regret Bernie Sanders's presidential campaign. Sanders is earnest and widely liked. He has tugged the terms of the political debate leftward in a way both moderates and left-wingers could appreciate. (Moderate liberals might not agree with Sanders's ideas, but they can appreciate that his presence changes for the better a political landscape in which support for things like Mitt Romney's old positions on health care and the environment were defined as hard-core liberalism.) Sanders's rapid rise, in both early states and national polling, has made him a plausible threat to defeat Hillary Clinton. Suddenly, liberals who have used the nominating process to unilaterally vet Clinton, processing every development through its likely impact on her as the inevitable candidate, need to think anew. Do we support Sanders not just in his role as lovable Uncle Bernie, complaining about inequality, but as the actual Democratic nominee for president? My answer to that question is no.
Sanders's core argument is that the problems of the American economy require far more drastic remedies than anything the Obama administration has done, or that Clinton proposes to build on. Clinton has put little pressure on Sanders's fatalistic assessment, but the evidence for it is far weaker than he assumes. Sanders has grudgingly credited what he calls "the modest gains of the Affordable Care Act," which seems like an exceedingly stingy assessment of a law that has already reduced the number of uninsured Americans by 20 million. The Dodd-Frank reforms of the financial industry may not have broken up the big banks, but they have, at the very least, deeply reduced systemic risk. The penalties for being too big to fail exceed the benefits, and, as a result, banks are actually breaking themselves up to avoid being large enough to be regulated as systemic risks.
It is true that the Great Recession inflicted catastrophic economic damage, and that fiscal policy did too little to alleviate it. The impression of economic failure hardened into place as the sluggish recovery dragged on for several years. Recently, conditions have improved. Unemployment has dropped, the number of people quitting their job has risen, and — as one would predict would happen when employers start to run short of available workers — average wages have started to climb. Whether the apparent rise in the median wage is the beginning of a sustained increase, or merely a short-lived blip, remains to be seen. At the very least, the conclusion that Obama's policies have failed to raise living standards for average people is premature. And the progress under Obama refutes Sanders's corollary point, that meaningful change is impossible without a revolutionary transformation that eliminates corporate power.
Nor should his proposed remedies be considered self-evidently benign. Evidence has shown that, at low levels, raising the minimum wage does little or nothing to kill jobs. At some point, though, the government could set a minimum wage too high for employers to be willing to pay it for certain jobs. Even liberal labor economists like Alan Krueger, who have supported more modest increases, have blanched at Sanders's proposal for a $15 minimum wage.
Sanders's worldview is not a fantasy. It is a serious critique based on ideas he has developed over many years, and it bears at least some relation to the instincts shared by all liberals. The moral urgency with which Sanders presents his ideas has helped shelter him from necessary internal criticism. Nobody on the left wants to defend Wall Street or downplay the pressure on middle- and working-class Americans. But Sanders's ideas should not be waved through as a more honest or uncorrupted version of the liberal catechism. The despairing vision he paints of contemporary America is oversimplified.
Even those who do share Sanders's critique of American politics and endorse his platform, though, should have serious doubts about his nomination. Sanders does bring some assets as a potential nominee — his rumpled style connotes authenticity, and his populist forays against Wall Street have appeal beyond the Democratic base. But his self-identification as a socialist poses an enormous obstacle, as Americans respond to "socialism" with overwhelming negativity. Likewise, his support for higher taxes on the middle class — while substantively sensible — also saddles him with a highly unpopular stance. He also has difficulty addressing issues outside his economic populism wheelhouse. In his opening statement at the debate the day after the Paris attacks, Sanders briefly and vaguely gestured toward the attacks before quickly turning back to his economic themes.
Against these liabilities, Sanders offers the left-wing version of a hoary political fantasy: that a more pure candidate can rally the People into a righteous uprising that would unsettle the conventional laws of politics. Versions of this have circulated in both parties for years, having notably inspired the disastrous Goldwater and McGovern campaigns. The Republican Party may well fall for it again this year. Sanders's version involves the mobilization of a mass grassroots volunteer army that can depose the special interests. "The major political, strategic difference I have with Obama is it's too late to do anything inside the Beltway," he told Andrew Prokop. "You gotta take your case to the American people, mobilize them, and organize them at the grassroots level in a way that we have never done before." But Obama did organize passionate volunteers on a massive scale — far broader than anything Sanders has done — and tried to keep his volunteers engaged throughout his presidency. Why would Sanders's grassroots campaign succeed where Obama's far larger one failed?
Sanders has promised to replace Obamacare with a single-payer plan, without having any remotely plausible prospects for doing so. Many advocates of single-payer imagine that only the power of insurance companies stands in their way, but the more imposing obstacles would be reassuring suspicious voters that the change in their insurance (from private to public) would not harm them and — more difficult still — raising the taxes to pay for it. As Sarah Kliff details, Vermont had to abandon hopes of creating its own single-payer plan. If Vermont, one of the most liberal states in America, can't summon the political willpower for single-payer, it is impossible to imagine the country as a whole doing it. Not surprisingly, Sanders's health-care plan uses the kind of magical-realism approach to fiscal policy usually found in Republican budgets, conjuring trillions of dollars in savings without defining their source.

The Sanders campaign represents a revolution of rising expectations. In 2008, the last time Democrats held a contested primary, the prospect of simply taking back the presidency from Republican control was nearly enough to motivate the party's vote. The potential to enact dramatic change was merely a bonus. After nearly two terms of power, with the prospect of Republican rule now merely hypothetical, Democrats want more.
The paradox is that the president's ability to deliver more change is far more limited. The current occupant of the Oval Office and his successor will have a House of Representatives firmly under right-wing rule, making the prospects of important progressive legislation impossible. This hardly renders the presidency impotent, obviously. The end of Obama's term has shown that a creative president can still drive some change.
But here is a second irony: Those areas in which a Democratic Executive branch has no power are those in which Sanders demands aggressive action, and the areas in which the Executive branch still has power now are precisely those in which Sanders has the least to say. The president retains full command of foreign affairs; can use executive authority to drive social policy change in areas like criminal justice and gender; and can, at least in theory, staff the judiciary. What the next president won't accomplish is to increase taxes, expand social programs, or do anything to reduce inequality, given the House Republicans' fanatically pro-inequality positions across the board. The next Democratic presidential term will be mostly defensive, a bulwark against the enactment of the radical Ryan plan. What little progress liberals can expect will be concentrated in the non-Sanders realm.
So even if you fervently endorse Sanders's policy vision (which, again for the sake of full candor, I do not), he has chosen an unusually poor time to make it the centerpiece of a presidential campaign. It can be rational for a party to move away from the center in order to set itself up for dramatic new policy changes; the risk the Republican Party accepted in 1980 when Ronald Reagan endorsed the radical new doctrine of supply-side economics allowed it to reshape the face of government. But it seems bizarre for Democrats to risk losing the presidency by embracing a politically radical doctrine that stands zero chance of enactment even if they win.