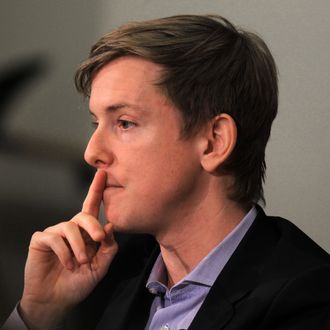 Hughes gives up.
Photo: Jonathan Wiggs/The Boston Globe via Getty Images
The New Republic got a major shake-up in 2012 when Facebook co-founder Chris Hughes bought the majority stake in the 100-year-old magazine. The magazine was shaken again last year when more than two dozen staffers left during Hughes's push for a stronger digital focus. Now the magazine, probably suffering from vertigo at this point, is back on the market.
In a staff memo posted Monday on Medium, Hughes said that the magazine needs a new business model and that he underestimated "the difficulty of transitioning an old and traditional institution into a digital media company in today's quickly evolving climate." He went on to announce that he would seek new leadership for the magazine.
"The New York Times, The Atlantic, and other traditional outlets seem to have found business models that work for them," he wrote. "I hope that this institution will one day be part of that list. To get there The New Republic needs a new vision that only a new owner can bring."
A person familiar with the matter told The Wall Street Journal that Hughes had already been shopping the magazine around to big media companies and digital start-ups. Apparently Hughes was also looking into a nonprofit structure for the magazine.
According to comScore Inc. the magazine's web traffic was cut in half after the staff exodus last year. Hughes, reportedly worth about $450 million, says he invested about $20 million into the magazine.
Back in December 2014, shortly after many of his staffers left in protest, Hughes wrote an op-ed in the Washington Post where he argued, "If you really care about an institution and want to make it strong for the ages, you don't walk out. You roll up your sleeves, you redouble your commitment to those ideals in a changing world, and you fight. This 100-year-old story is worth fighting for."