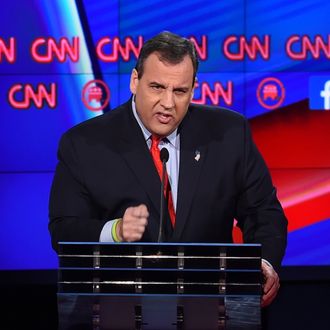 Salad's worst nightmare.
Photo: Robyn Beck/AFP/Getty Images
Chris Christie is currently polling at about 4 percent in Iowa, but he's just unveiled a bold new policy initiative that's sure to make his numbers skyrocket (among elementary-school students). At a town-hall meeting in Council Bluffs, Iowa, 11-year-old Jacob Loyal asked the New Jersey governor if he has a plan to make school lunches delicious again, noting, "They were fine when Mrs. Bush was the first lady, but now that Mrs. Obama is the first lady, they have gone down." New nutrition standards advocated by Michelle Obama mandate that fruits and vegetables appear on lunch trays, and led to Loyal's school tinkering with his beloved beef and pork crispitos. 
The governor said he believes the First Lady can voice her opinions, but she has "no business" dictating what the nation's school children consume. "I don't care what you're eating for lunch every day, I really don't," said Christie. "Your mother and father should make that decision for you. And then they'll send you to school sometimes with a healthy lunch, and then you'll throw it out." (He added that these days "I try to eat more healthy," but said ultimately "it's your choice.")
Royal told reporters he was satisfied with Christie's school-lunch stance, and believes his favorite foods will "probably" be back if he's elected. The boy didn't say whether he's now a Christie supporter, possibly because he's waiting to hear more about Rand Paul's policy on bedtimes.