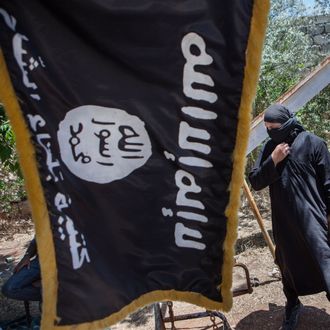 ISIL is responsible for the majority of civilian killings in Iraq.
Photo: Daniel Leal-Olivas/Corbis
Between January 2014 and October 2015, a period of 21 months, 18,802 civilians died in Iraq. What's more, 36,245 were wounded, and as many as 3.2 million have been displaced, according to a United Nations report released Tuesday. "The violence suffered by civilians in Iraq remains staggering," the report reads. "The so-called 'Islamic State of Iraq and the Levant' (ISIL) continues to commit systematic and widespread violence and abuses of international human rights law and humanitarian law."
Most victims are those who oppose Islamic State ideology, especially those with ties to the Iraqi government. ISIL carries out its killings "in gruesome public spectacles, including by shooting, beheading, bulldozing, burning alive and throwing off the top of building." The terrorist group is also suspected to have kidnapped between 800 and 900 child soldiers "for religious education and military training" in the same time period. 
The report is mostly based on firsthand accounts from survivors and witnesses — it contains dozens of specific examples of ISIL's atrocities, all delivered in the same robotic tone:
On 27 June, ISIL murdered 11 former police officers (al-Jubour tribe members) from Saf al-Toth village in Hamam al-Aleel district, south of Mosul, Ninewa. The men, who were shot in the head, were killed five kilometers away from their village following the decision of an ISIL self-appointed court. ISIL had abducted the men in May 2015. The families received written notification of the killings along with a list of the men's names. 
But according to the report, the Islamic State wasn't the only group responsible for civilian casualties in those 21 months. Officials also documented human-rights violations perpetrated by Iraqi Security Forces and other groups, including "militia and tribal forces, popular mobilization units, and Peshmerga" (military forces from Iraqi Kurdistan, an autonomous region that borders Kurdish Iran).
U.N. high commissioner for human rights Zeid Ra'ad Al Hussein warned that these numbers might not reflect the true scope of civilian suffering: "The figures capture those who were killed or maimed by overt violence, but countless others have died from the lack of access to basic food, water or medical care," he said.
Such horrifying statistics help explain why more than 30,000 Iraqis applied for asylum last year alone. "This report lays bare the enduring suffering of civilians in Iraq and starkly illustrates what Iraqi refugees are attempting to escape when they flee to Europe and other regions. This is the horror they face in their homelands."