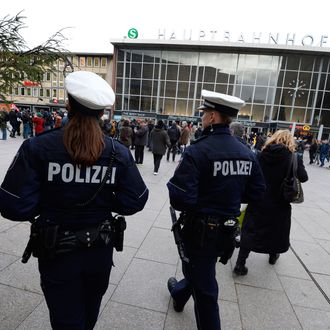 Police officers survey the area in front of the main train station and the Cathedral in Cologne.
Photo: Roberto Pfeil/AFP/Getty Images
It's been six days since at least 100 women were attacked in the streets of Cologne, a city with about a million people in western Germany, during New Year's Eve celebrations. The investigations are ongoing, but the uproar has reached a fever pitch. News of the attacks only started to spread this week, prompting many German politicians to accuse law enforcement or the media of trying to cover up the story because of its potential to influence the migrant debate.
The attackers, many of them drunk, were described as "North African or Arabic." There is no proof that the men came to Germany with the hundreds of thousands of migrants that arrived in the past year, but that caveat has had little bearing on people's immediate fearful reaction to the attacks. Residents are especially worried given that the Cologne Carnival — also known as the "crazy days," an especially drunken and revelry-filled affair — is only a month away. 
Around 1,000 men gathered in the streets outside the train station in Cologne on New Year's Eve. Police are skeptical that all of the men were involved in the attacks, but know that smaller groups surrounded women and sexually assaulted or robbed them. At least one woman reported that she had been raped; another plainclothes policewoman also reported that she had been assaulted. Another ten women reported that they had been assaulted on New Year's Eve in Hamburg.
According to Deutsche Welle, police officers "said they tried to clear the square in front of Cologne's main train station after a crowd of some 1,000 men began throwing fireworks about."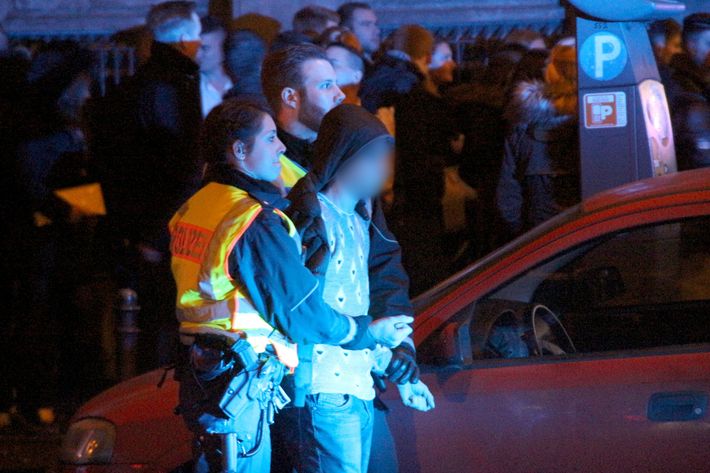 "The men surrounded us and started to grab our behinds and touch our crotches," one woman told CNN. "They touched us everywhere. I wanted to take my friend and leave. I turned around and in that moment someone grabbed my bag … But there were so many people around me that there was no control. There was no way out. There was no way to protect yourself." A British woman visiting Germany for the holiday told the BBC, "They were trying to hug us, kiss us. One man stole my friend's bag … I've been in scary and even life-threatening situations and I've never experienced anything like that." An investigator told a local tabloid, "The female victims were so badly pushed about, they had heavy bruises on their breasts and behinds."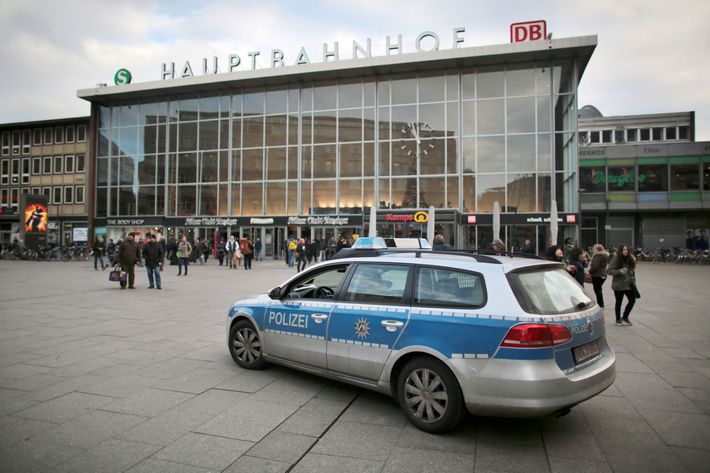 The AP reports that three suspects have been identified, but there have been no arrests yet; the police are currently investigating if a known crime ring in Düsseldorf could be linked to the attacks. There have been several incidents in Düsseldorf where attackers have robbed women after assaulting them in the past two years. The AP adds that "since the start of 2014, officers there have identified more than 2,000 suspects of North African origin in connection with organized thefts, though he did not say how many. He declined to say whether there have been any arrests in those cases."
Cologne mayor Henriette Reker was asked at a press conference how women could stay safe; she invited plenty of ridicule by advising that "There's always the possibility of keeping a certain distance of more than an arm's length — that is to say to make sure yourself you don't look to be too close to people who are not known to you, and to whom you don't have a trusting relationship." Many women lambasted the suggestion on Twitter. One said, "I have short arms. Will that be a problem for me then in the worst case scenario?"
Reker won election last fall, shortly after being stabbed in the neck — reportedly for her pro-refugee stance. 
Chancellor Angela Merkel released a statement, saying, "Everything must be done to investigate as completely and quickly as possible those who are guilty and to punish them regardless of how they look, where they come from or what their background is." Many of her rivals responded by blaming Merkel and her policies toward refugees — Germany has been far more welcoming to migrants than most of Europe, letting in more than a million last year — for the violence. Frauke Petry, leader of the right-wing Alternative for Germany party, said, "Here we see the appalling consequences of catastrophic asylum and migration policies on Germany's everyday reality." The "likes" have been rolling in on a Facebook comment that says, "I could puke when I read this, and there are still so many deluded idiots who say 'Welcome refugees' … Close the borders now. For God's sake, Merkel belongs on the scaffold." The remark was made, per The Guardian, on the page for PEGIDA, an anti-immigrant group.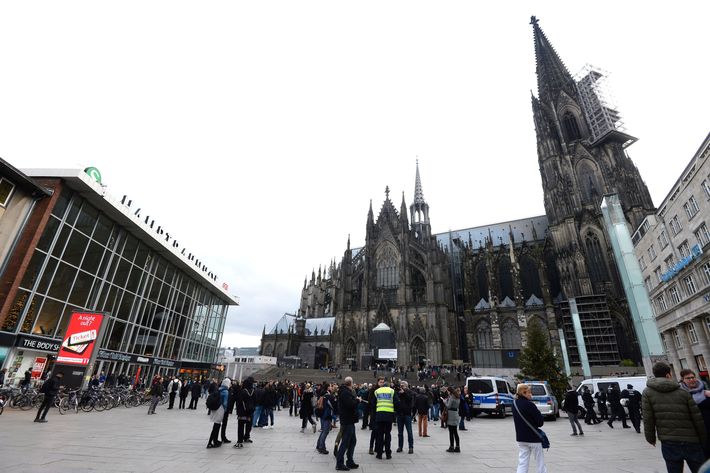 Many officials in Germany worked fast to counter this frame. Interior Minister Thomas de Maizière said, "That such a big number of people, apparently with migration background, appear to have committed these attacks represents a new dimension. But this mustn't lead to putting refugees who seek protection in our country under a general suspicion." Justice Minister Heiko Maas told France 24, "Making an issue out of it, lumping it together with the refugee issue, is nothing but exploitation. Now is the time to determine the facts and then decide on the necessary consequences."