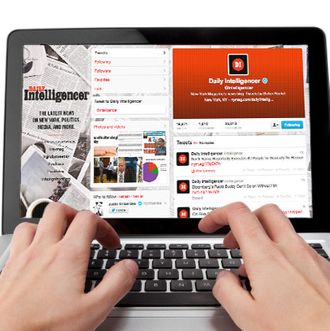 Welcome back to the New York Magazine Competition. On alternate Mondays (or, this week, Tuesday), we lay out a challenge and offer sample responses. Enter in the comments section or on Twitter with the hashtag we've provided, and the editors will select a winner. Criteria are highly subjective, but heavily retweeted and favorited posts will have an advantage. The prize is a year's subscription to New York in print or a two-year subscription to the iPad edition (winner's choice). Full rules are here.
COMPETITION NO. 64: "RESOLUTIONS ALREADY BROKEN." Please offer a prominent person's New Year's resolution that may not hold up. For example:
Don't worry so much about money. —Jerry Hall

Cut down on snacks. —Ammon Bundy

Make a budget and stick to it. —Chris Hughes
Enter on Twitter with the hashtag #resolutionsalreadybroken, or in the comments thread below, by January 21.
RESULTS OF COMPETITION No. 63, "2015 IN EIGHT WORDS," in which you were asked for a brief recap of the year just past.
HONORABLE MENTION TO:
For whatever you said—we demand an apology!
—RustyShackelford 
Recapping the year in eight words is impossible.
—MalcolmMerriweather  
Nitwit seamstress abets escape; Trump leaves us agape.
—ragman1940

Terrorists killing, torrential rains spilling, but how're you?
—rmtmiller 
ISIS, refugee crisis, Black lives matter, candidates clatter.
—j_son
Jeb Bush Is Cool With Your Selfies, Kids!
—BobKopac
A bad year overrun with immensely punchable faces.
—NMN68

More bad guys than good guys with guns.
—RegisMayhem
Carson put Johns Hopkins neurosurgery program under microscope.
—clippityclop

What can I say without offending any individual?
—Milymoyy

You've just crossed over into the Twilight Zone.
—gianna13
Faith in humanity: restored, lost, restored again.
—@sahelirc

Has CNN found the downed Malaysian plane yet? 
—Lexxman

Guns, Guns, Guns, Guns, Guns, and more Guns!
—WhatEvz713

Mets win, Yankees spin, Jets hold, Giants fold.
—rbison

The Year of Aggressions both Micro and Macro.
—BambooLounge

Pretty sure the weather is broken. China too.
—AlyceInWonderland

Everyone was arguing about whose lives really matter.
—@TheWriterJess
2015 spawned additional Beliebers; global warming now welcomed.
—TheRealPennyLane
Kim Davis, wearing normcore, on hoverboard, fighting ISIS.
—FlirtySanchez

On the bright side: gay marriage finally legal. 
—3North
I guess it can happen here after all.
—CaptServo
I still don't forgive Ariana Grande for #DoughnutGate.
—@countingteacups

Trolls and grumps morph into one entity: Trump.
—@DannyGroner
AND THE WINNER IS:

It was not supposed to be like this.
—@nyc118