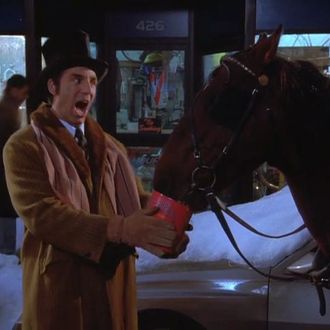 Just when it's become cold enough that not even the tourists want to go for a carriage ride in Central Park, the City Council may be getting closer to figuring out the future of the industry. Back in November, reports leaked that City Hall was backing away from the idea of a total ban on carriage horses — one of Mayor de Blasio's splashiest campaign promises — and looking at a compromise that would let the industry operate with fewer horses and some other restrictions.
The Daily News reports that such a deal might soon come to fruition. City Hall is apparently drafting a proposal that it could introduce as early as this week that would reduce the number of horses by more than half — 75 from the current number of 220. The plan would also permanently move the carriage-horse stables from the far West Side, on 52nd Street, to a location within Central Park, which would keep the horses out of busy midtown traffic.
City Council may try to sweeten the deal by relegating the probably greater menace of rickshaw drivers to an area above 85th Street, letting the horses have full reign farther south. The proposal might also let drivers add a surcharge to rides on evenings and holidays to increase the profit margin on romantic park rides. Still, based on what sounds like steep cuts in the fleet, NY1 reports that the Teamsters union is pushing for a severance package for laid-off drivers, but that doesn't seem assured just yet.