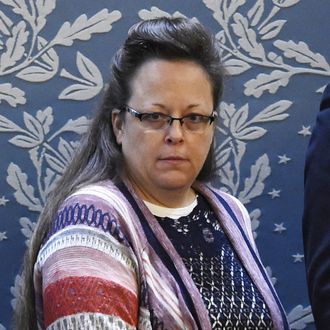 Kim Davis attended her first State of the Union address Tuesday night.
Photo: Saul Loeb/AFP/Getty Images
Not everyone was happy when it was announced that Kim Davis, the Kentucky county clerk infamous for denying marriage licenses to same-sex couples, would attend President Obama's final State of the Union address. After all, she'd apparently earned the attention by blatantly breaking the law. It was common knowledge that her ticket had come from the Family Research Council (a Christian conservative lobbying group), but until yesterday evening it was a mystery which member of Congress had given the Council a ticket to give to Davis.
It turns out the secret was kept so well because the congressman in question, Ohio Republican Jim Jordan, did not himself have any idea that he'd been the one who did it — until reporters at the Huffington Post asked him to confirm the invitation with his office. When first questioned, Jordan claimed not to have invited anyone. After he checked with his communications director, however, he corrected himself: "At the request of the Family Research Council, we gave the ticket to Kim Davis' family," he said, adding: "I found out today. And I'm being totally honest with you; the Family Research Council asked us, her family wanted a ticket, and we said 'okay.'"
Despite the coveted get, Davis didn't appear to particularly enjoy Obama's final speech as president.