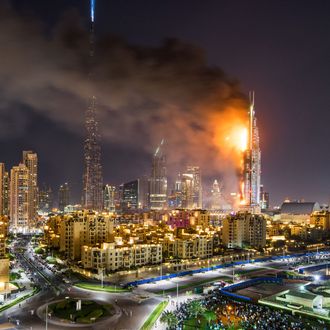 The Address Hotel burned in Dubai on December 31. Could it happen here?
Photo: Nicolas Cornet/EPA/Corbis
The Arab Emirate city-state of Dubai has spent the past decade-plus putting up fanciful skyscrapers: one shaped like ship sails, no fewer than three Chrysler Building knockoffs, and the world's tallest building, the Burj Khalifa*. When one of these new towers — the 63-story Address Downtown Dubai, a slender shark fin just opposite the Burj — caught fire on New Year's Eve just before a fireworks show was to begin, the internet was quickly jammed with what looked like film stills from a Blade Runner–Towering Inferno mash-up. Thankfully, everyone got out of the burning tower alive, and investigations are under way, but already it has become clear that the fire wasn't in the building as much as it was on it, affecting mostly the thousands of aluminum-composite panels that cover the exterior. Which in turn got us looking askance at the hundreds of new buildings in New York that are also sheathed with ACPs, which are made of thin sheets of metal over a plastic core. In Dubai, the plastic layer seems to have been what burned.
"They're used a lot," admits Matt Freeborn, manager of fire testing at Intertek, a safety company that does extensive work in New York. Through its local affiliate, MT Group, Intertek is one of the Department of Buildings's primary contractors for both project inspections and product certification; Freeborn and his colleagues don't have a specific figure, but it's a fair guess that the company has signed off on dozens of ACP-clad buildings, as they have become the sheathing of choice for many new residential high-rises. So: Could it happen here? 
"Anything is possible, but it's less likely in New York," says Freeborn. Both city agencies and authorized proxies like Intertek aren't just good at checking out buildings: They also look hard at the whole materials food chain, from fabrication to construction, making sure that the right materials are being used in the right way. ACPs used in the United States now include a fire-retardant core, made from a type of plastic that starts emitting water vapor at high temperatures and thereby stops fires from spreading. The National, Abu Dhabi's English-language paper, reports that many pre-2012 buildings in the UAE were constructed with non-fire-resistant ACPs. The last major overhaul of the relevant parts of our fire code, introduced in 2001 and thus covering the entire ACP era, would not have allowed those. At the Address, according to early media reports, the rubber and silicone gaskets that hold the panels in place may also have helped the fire spread; in the U.S., building components are tested not just in isolation but in combination with whatever else they'll actually be adjacent to in the finished building. No such vetting seems to have taken place in Dubai.
What about errors? "Honest mistakes are made," notes Sarah Hoit, a scientist with the building-product specialists Material ConneXion. It is always possible that a builder specifies one material and then someone — by accident or design — substitutes one that looks similar and is not fire-rated. That could happen anywhere, though more oversight probably makes it somewhat less likely here. Although Dubai has inspection procedures, and no firm we spoke to could say with authority whether they were or were not followed, everyone agreed that the UAE simply does not apply the same level of scrutiny that American municipalities do.
And, of course, even amid New York's construction boom, we simply don't do as much high-speed skyscraper building as Dubai. We build a little more slowly in New York — in no small part because of those cumbersome, annoying, and (apparently) potentially life-saving regulations. Here's hoping we don't get ahead of ourselves.

*References to the Burj Khalifa and The National have been corrected.