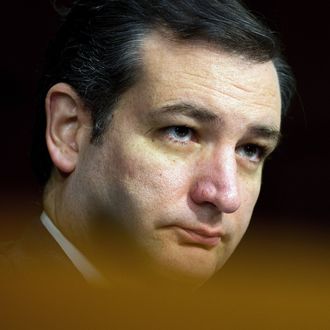 To quote another Texan presidential candidate, "Oops."
Photo: Jim Watson/AFP/Getty Images
Ted Cruz can take a break from defending his eligibility to run for president because today he's the subject of a new scandal. While the Texas senator often tells a cute story about his wife Heidi immediately agreeing when he suggested they liquidate their assets to fund his first campaign, the New York Times reports that he's been omitting the part where they obtained two loans from Citibank and Goldman Sachs, where Heidi works, which eventually totaled $1 million.
Cruz reported putting $1.2 million, which he's described as "all we had saved," into his 2012 Senate campaign, but it does not appear that the couple liquidated their assets. It's perfectly legal for a candidate to take out bank loans to finance their campaign, they just have to report it. The two loans don't appear in Cruz's FEC filings, and the Times notes, "other campaigns have been investigated and fined for failing to make such disclosures."
The senator did account for the loans in annual Senate ethics reports, which are separate from FEC filings. "These transactions have been reported in one way or another on his many public financial disclosures and the Senate campaign's F.E.C. filings," said Cruz spokesperson Catherine Frazier. She said the failure to report the loans was "inadvertent," and the campaign would file corrected reports.
While Cruz's error isn't as salacious, Rubio must be excited that he's not the only candidate having his finances called into question.