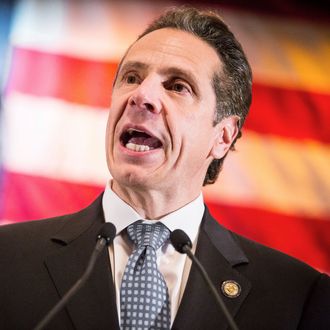 And if he gets sued, "so be it."
Photo: Andrew Burton/Getty Images
With New York finally seeing some wintry temperatures this week, after weeks of unseasonably warm weather, on Sunday, Governor Andrew Cuomo signed an executive order requiring local governments to transfer homeless people from the street to shelters when the temperature falls below freezing. According to the New York Times, the order, which goes into effect Tuesday, requires police, state agencies, and social-service agencies to move homeless people by force if they refuse to go to shelters. "It's about love. It's about compassion. It's about helping one another and basic human decency," Cuomo told NY1.
However, many questioned the legality of Cuomo's directive, and it's set up a new battle in his ongoing feud with Mayor Bill de Blasio. "We support the intent of the executive order, but to forcibly remove all homeless individuals in freezing weather, as the governor has ordered, will require him to pass state law," said the mayor's press secretary, Karen Hinton, adding that no one is turned away from city shelters. An attorney with the de Blasio administration said people can only be forcibly taken off the street if they've committed a crime or if they're being taken in for psychiatric evaluation because they may pose a threat to themselves or others.
Cuomo and de Blasio have been publicly bickering for months, and the governor's staff suggested that he was taking action because the mayor has failed to adequately address the city's homeless problem. Alphonso David, the governor's chief counsel, noted, "There are more than 4,000 homeless individuals living on the streets, with the majority in New York City," and said local police must comply with the executive order "regardless of what the local district's policy may or may not be or how well it is or is not managed by the locality." He also said the state will soon announce a "full plan" to address the homeless crisis.
In freezing temperatures the city already increases the number of vans searching for homeless people on the streets and loosens intake procedures at shelters. The rise in homelessness is one of the biggest issues facing the de Blasio administration, and last month the mayor's office announced a new program, HOME-STAT, that would put case workers on the streets to identify the homeless and connect them with city services. De Blasio has also announced plans to create 15,000 units of supportive housing for the homeless.
While some homeless New Yorkers told the Daily News that they welcome the governor's plan to get people inside in the cold, others said they have a right to choose whether or not to go to a shelter. "It's going to be crazy. They don't have enough room. They don't have the infrastructure to do this," said Luis Diaz, 31. "Where are they going to put us? If they're shoving us in shelters with crazies and people who can't handle being in there, there is going to be a lot of fights. We're safer out here."
In an interview on WCBS 880 radio Sunday, Cuomo acknowledged that his executive order could be challenged in court, but said, "If I get sued for keeping people safe and getting people in from the cold because they were endangering themselves, so be it."