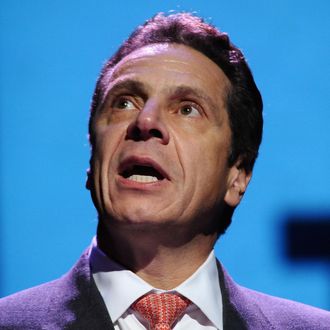 Photo: Gary Gershoff/Getty Images
The third man of Albany's three-men-in-a-room power bloc isn't going to face any charges. U.S. Attorney Preet Bharara announced in a statement that there is "insufficient evidence" of illegality in Governor Andrew Cuomo's decision to prematurely dissolve the Moreland Commission to Investigate Public Corruption in March 2014.
Cuomo himself had set up the Moreland Commission the preceding June. The investigative body was intended to look into the ways in which "housekeeping accounts," which state legislators use for administrative expenses (and can accept unlimited donations), were being used. While it was active, the commission issued subpoenas to see how salaries were being paid at the law firms of both Dean Skelos and Sheldon Silver, who constituted two-thirds of Albany's infamous troika. By October, Cuomo had been accused of killing a subpoena aimed at his own New York State Democratic Party. The following March, Cuomo suddenly disbanded the commission, saying that stricter anti-bribery laws would accomplish the ethics reform Albany required.
Cuomo's legal counsel, Elkan Abramowitz, responded to Bharara's findings: "We were always confident there was no illegality here, and we appreciate the U.S. attorney clarifying this for the public record."
In the past two months, both Skelos and Silver have been found guilty on federal charges of corruption. "We continue to have active investigations related to substantive inquiries that were being conducted by the Moreland Commission at the time of its closure," Bharara said in his statement. He is, however, continuing to look into Cuomo's Buffalo Billions revitalization project, in which billions in state-funded contracts are being distributed. Cuomo has said he has nothing to worry about.