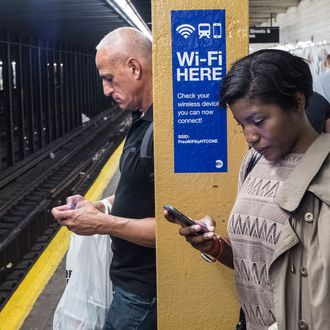 This, but everywhere.
Photo: Tony Savino/Corbis
Governor Andrew Cuomo, the man who has been accused of never having taken the bus, thinks that the future is in mass transportation. So he is promising big things for the MTA's future, which were laid out in a speech given at the Transit Museum in Brooklyn on Friday.
Here are a few of the promises:
- An accelerated rollout of the countdown clocks for lettered lines. Cuomo promised this back in 2009, Gothamist notes, but now, he says, he is really pushing. In March, MTA spokeswoman Amanda Kwan said they were yet to set a timeline for the countdowns on the lettered lines.
- Cuomo wants system-wide Wi-Fi by the end of the year, and he promised cell-phone service in the next two years. Two hundred new cars will have USB charging stations this year and 400 more next year. By 2018, more than 1,000 buses should have Wi-Fi and charging stations.
- The MTA will be getting a digital ticketing system that, by 2018, will allow customers to buy MetroCards online. Riders will also be able to use their phones as MetroCards by pointing them at turnstiles that will be able to detect a QR-code-like design.
But … the MTA will also have to work very fast if it wants any of these things to happen on the accelerated timetable offered by Cuomo. MTA chairman Thomas Prendergast followed Cuomo and explained that 30 stations will have to temporarily close, 6 to 12 weeks at a time, over the next four years so they can get their makeover.
The governor has published a map and list of the closures so you can see if your station is going to go on hiatus.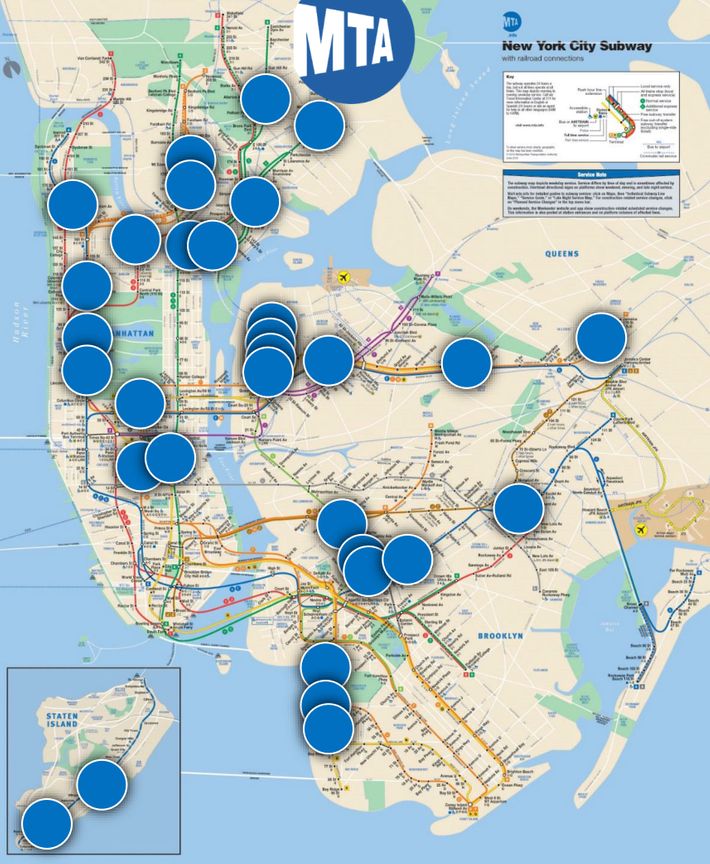 The improvements will be financed in the $32 billion 2015–2019 Capital Program, yet to be approved. The announcement is the latest in a series of announcements that some critics have called a "fantasy tour." He wants $8.3 billion to close the MTA deficit, $4 billion for the new Tappan Zee Bridge, $22 billion for a five-year bridge and highway plane, a $1 billion third track for the Long Island Rail Road, a $1 billion commuter rail spur in the Bronx, and of course the expansion of Penn Station, which could cost billions.
While you gaze at these ambitious timetables and plans, remember that the Second Avenue subway has yet to open.