If Governor Andrew Cuomo gets his way, someday you'll be able to regale your grandchildren with tales of the countless hours you spent crammed into a dingy underground maze, desperately trying to maintain your sanity by sipping a gigantic beer through a straw. On Wednesday, the governor announced his plan to renovate Penn Station — for real this time — by creating an Amtrak waiting area and shopping concourse in the Farley Post Office across Eighth Avenue, and redesigning the area under Madison Square Garden, where two subway lines, the Long Island Railroad, and New Jersey Transit intersect.
"It is a terrible impression of New York," Cuomo said of the current station. "What is amazing is how long it has been tolerated. It's not like Penn was a secret."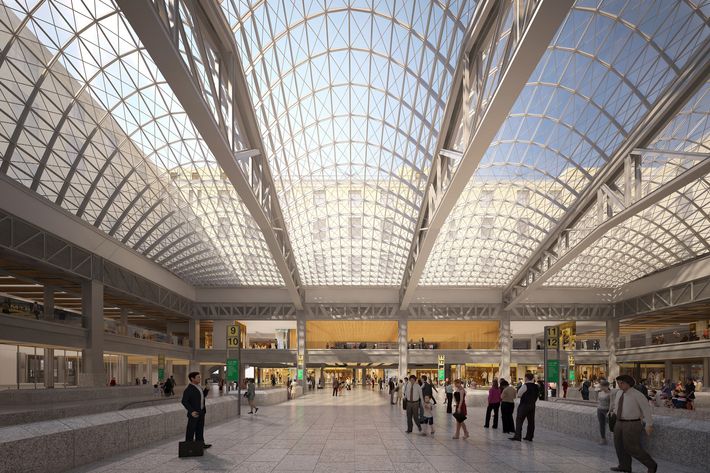 Developers have just 90 days to submit proposals for the $3 billion project, which Cuomo dubbed the Empire Station Complex. (Apparently the name "Moynihan Station" is out, but a hall in the post office will be named for the late Senator Daniel Patrick Moynihan.) The governor's office released images of a proposed design that include a grand entrance on Eighth Avenue, upgraded shops and restaurants, and large glass walls all over the station to let in natural light.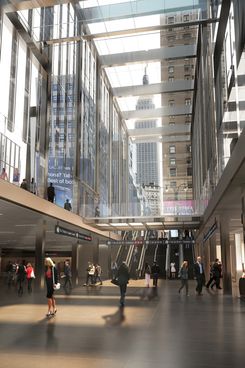 Madison Square Garden will be staying put, but the owners say they're open to demolishing the 5,600-seat theater along Eighth Avenue (as long as they're compensated for the loss).
It's unclear exactly how the project will be paid for. Cuomo said $325 million would come from government sources, and the developers chosen for the project would get the rights to all the retail shops in Penn Station. According to the New York Times, the state is also seeking a developer for the Farley Post Office, and proposals can address either project or both.
"We wanted people to know we're looking for an aggressive, ambitious design," Cuomo said. "This will get done." Penn Station commuters have heard that before, but the dream of escaping New York's scary basement lives on.