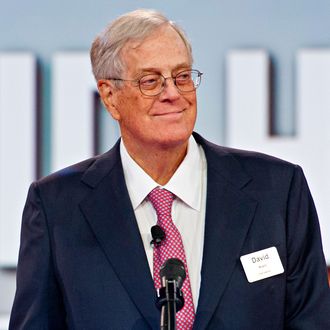 So many boards, so little time.
Photo: Amy Harris/Corbis
After 23 years, David H. Koch has decided to quit the board of the American Museum of Natural History. Although groups like Greenpeace and the Sierra Club have called for Koch's dismissal for months — "There's no place for the agenda of people like David Koch and others trying to undermine science for their own financial gain in our country's top museums," Greenpeace declared back in March — the decision is more likely his than the museum's. His spokesperson told the Times that Koch simply "does not have time to attend the board meetings," and is focusing his charity time on medical research. 
Still, his departure is a symbolic victory for activist groups who've been saying that a scientific institution can't accept funding from a climate-change denier. The Koch brothers, after all, have given a reported $70 millions to organizations that attempt to refute climate studies, mostly through Americans for Prosperity. (The Natural History Museum, a small group that "highlights socio-political forces that shape nature" via exhibitions in a rolling science-mobile, has been behind much of the activism.) A spokesperson for the actual American Museum of Natural History told the Times, "He was not swayed by that at all, and it absolutely did not factor into his decision."
In August 2010, a New Yorker profile by Jane Mayer highlighted a vagueness in the captions of one installation in AMNH's Hall of Human Origins, for which Koch donated $15 million. A portion of the exhibition devoted to changing climate conspicuously leaves out a mention of the cause, and implies that rising global temperatures may be merely a natural phenomenon. Randall Kremer, director of public affairs for the museum, swore Koch has no influence on the exhibit, telling the Times, "He signed our standard gift agreement, which prohibits donor or sponsor involvement in content."
Koch remains on the board of the Smithsonian National Museum of Natural History, although activists have called for his departure there as well.