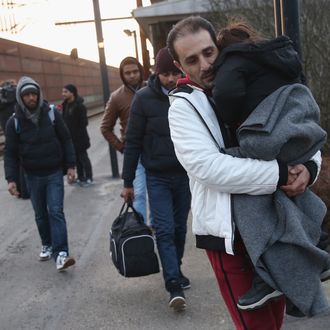 Denmark isn't the only country cracking down on migrants.
Photo: Sean Gallup/Getty Images
As the migrant crisis shows no sign of letting up, once-welcoming Nordic countries are turning colder toward refugees. On Tuesday, Denmark passed a set of controversial laws designed to discourage migrants from entering the country, among them the "jewelry bill," which allows Danish officials to seize valuables from migrants in order to offset the cost of harboring them. According to Reuters, the bill passed by an overwhelming majority, hinting at a change of heart for a country that took in 20,000 refugees last year.
Human-rights groups condemned the bill, but they only succeeded in raising the dollar value of possessions refugees are allowed to keep from 3,000 to 10,000 Danish crowns (about $1,450). Wedding rings and other "valuables of special emotional value" will be exempt from collection, but phones, watches, and computers are all fair game. Denmark isn't the first country to seize valuables from refugees — Switzerland takes possessions worth 1,000 Swiss francs or more, and a German state collects anything worth more than 350 euro. 
The legislation also extends family reunification — that is, the amount of time that must elapse before a refugee can apply for family members to join him or her in Denmark — from one year to three. John Dalhuisen, a director of Amnesty International, called the law "mean-spirited," telling CNN, "To prolong the suffering of vulnerable people who have been ripped apart from their families is just plain wrong." But the right-wing Danish People's Party, which supported the bill, said they hope it begins a "chain reaction" to "tighten the rules" throughout Europe.