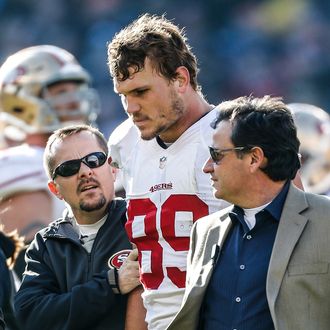 Photo: Michael Zagaris/Getty Images
NFL players were diagnosed with 271 concussions this season, up from 202 in 2014, according to data released by the league on Friday. It's the highest number in the past four years, though via Pro Football Talk, it's unclear whether this means more players actually sustained concussions: The league also said that twice as many players were evaluated for possible concussions this season, which could point to medical staffs being more vigilant and thus affect the number of diagnoses. The NFL added that more players are self-reporting concussion symptoms.
About two-thirds of the diagnosed concussions (182, to be exact) came during regular-season games. As for the rest, 52 occurred during preseason contests, 29 during preseason practices, and eight during regular-season practices.
Of the concussions sustained during regular-season games, 92 (or just over half) were the result of a helmet-to-helmet hit. Twenty-nine others were caused by a player's helmet hitting the playing surface, 23 were caused by a shoulder-to-helmet hit, and 12 were the result of knee-to-helmet hits.
Head injuries in sports, and in football in particular, have gotten increased attention in recent years, and the NFL has been criticized for how it has addressed the issue. Last month, ESPN reported that the league backed away from funding a major study looking at the relationship between football and brain disease because the project will be overseen by a researcher who has been critical of the league. An NFL spokesperson said then that the report was not accurate, and that the league did not pull any funding.