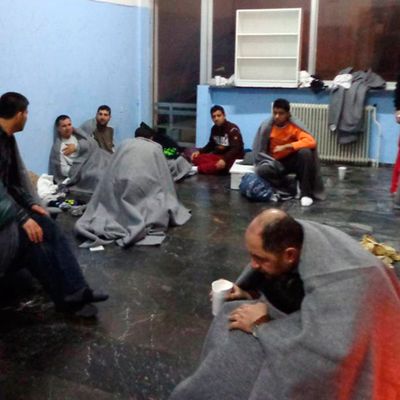 Survivors try to warm up at Kalymnos island after a rescue operation by the coast guard Friday, January 22.
Photo: Giorgos Drosos/Kalymnos-News.gr via AP
At least 43 migrants traveling from Turkey drowned when their boats capsized last night. At least 17 of those killed were children. According to the BBC, at least 700 migrants drowned while making the voyage across the Aegean Sea last year. Another 100 have already died this year, making this month "the deadliest January on record." Last year, not many migrants traveled to Europe in January because of the horrible weather. The same logic didn't hold this year, as people have become increasingly desperate. About 37,000 people have made the trip already, per Reuters. 
"They weren't wearing life jackets, I don't understand," a local fisherman who tried to help rescue some of the 26 people who survived told Reuters. "They couldn't swim. … The hospital is now full of dead people."
Meanwhile, German chancellor Angela Merkel is meeting with Turkish prime minister Ahmet Davutoglu on Friday. They are trying, once again, to think of a way to solve the migrant crisis, which shows no signs of dissipating in 2016. Merkel, who pledged that the EU would give $3 billion in aid to Turkey if it promises to deal with its borders and fight for peace in Syria, echoed the statement of the fisherman. "Today, once again, we heard of dreadful numbers of dead, including children, in the Aegean," she said.
At home and abroad, Merkel is finding fewer and fewer people who agree with her on refugee policy. At home, opposition parties are gathering strength, especially after the horrifying New Year's assaults in Cologne, where dozens of women were attacked by men who were described as appearing to be North African. Since then, raids on North African neighborhoods have increased across the country. One man, who moved to Germany 57 years ago, told NPR, "They pulled people out of cafes or stores like animals and made such a scene. It was so bad. What are our German neighbors going to think about us? … They forget most of us here are German citizens who can vote."
Meanwhile, many Germans are increasingly worried about migrants; according to the BBC, pepper spray has been selling like crazy.
Austria just put a cap on the number of refugees it will accept in 2016: 37,500 — far fewer than the number who arrived in 2015. Hungarian prime minister Viktor Orbán said this was great news on Friday, adding that "the best migrant is the migrant who does not come. The best number is zero." Macedonia closed its southern border earlier this week. In Germany, temporary controls on the Austrian border have now become permanent.  
In Greece, where those dozens of people now dead were destined, migrants are being told, as of Thursday, that they cannot enter the country unless they can say where they plan on ending up. "Those who refuse to declare whether they plan to seek asylum," one police official told The Wall Street Journal, "will not be able to cross the borders."
At Davos, French prime minister Manuel Valls said that the entire European Union may be in danger of crumbling if the problem isn't fixed soon. "If Europe is not capable of protecting its own borders," he warned, "it's the very idea of Europe that will be questioned." EU foreign policy chief Federica Mogherini also spoke at the World Economic Forum and warned that the closing borders would wreak havoc on the economy.
William Lacy Swing, the Organization for Migration's director, told the Washington Post, "We are in a period of unprecedented anti-migrant, anti-foreign sentiment, in which everybody sort of retreats in their own circle and says, 'No one can come in.'"
Some migrants have protested their treatment. Twenty-two-year-old Moder Mothama Magid is suing the Swedish government for $116,420, per the AP, after he was accused of terrorism and labeled as such in the media. He is no longer a suspect, but it seems likely that hasn't deterred people from treating him differently.