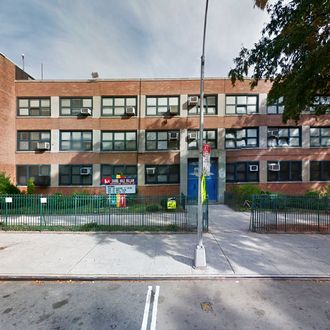 P.S. 307, in Vinegar Hill, Brooklyn.
Photo: Google
In Brooklyn, P.S. 8 — which serves Dumbo, Brooklyn's wealthiest neighborhood — is packed. P.S. 307 — a STEM magnet school serving mostly the housing projects down the street in nearby Vinegar Hill — is half-full. The first is nearly all white; the latter is largely black and Hispanic. For months, the Department of Education has been working on a plan to do the sensible thing and move some kids over to 307 and in the process make some moves toward economic and racial integration. After a long and contentious public debate, the local district council has approved the plan for 2016.
But parents from both zones remain unhappy about it, DNAinfo reports. Well-off parents from P.S. 8 have expressed concern about academic quality and resources at 307, which has lower (but not failing) standardized test scores. P.S. 307 parents are worried that students in their zone are going to be pushed out of their school as a better-off student body pours in. However, the new zoning plan promises priority at P.S. 307 to low-income students to preserve the school community. It also grants 50 percent of open seats to students eligible for reduced-price lunches, though that won't take effect till the 2017–18 school year. (Some officials are asking for that to be raised to 65 percent.) However, parents are disturbed that this trial in integration only flows in one direction. "I will not stand by and watch 307 become an experiment for the nation to be looking at and poking on with this diversity integration," Ben Greene, co-president of the PTA at 307, told DNAinfo. "I think both schools need to be integrated."
New York has, according to a 2014 study, the least racially integrated schools in America. On a recent episode of This American Life entitled "The Problem We All Live With" about school "desegregation," Nikole Hannah-Jones said that integration is the only thing that can really cut the achievement gap between black and white students. In fact, desegregating the school system cut the gap in half.
"We all know that our school system in New York City is in a lot of ways very segregated," Councilman Stephen Levin said. "[This] is an opportunity to say we want to leave school segregation in the past and that we want to move forward."