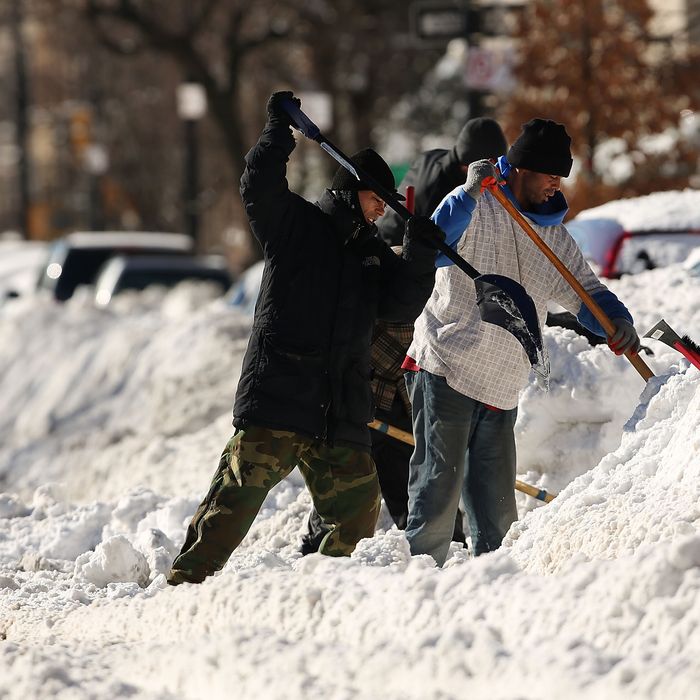 Brooklyn gets started.
Photo: Spencer Platt/Getty Images
The Latest
■ The massive storm set several records and dumped well over two feet of snow on much of the Eastern Seaboard. In many areas cleanup efforts will stretch into this week and beyond. The storm resulted in at least 30 deaths. Skip to here for a full overview of the impact and aftermath outside of New York City.
■ New York public transit will be mostly operational for Monday's commute, with the exception of some LIRR and NJ Transit lines. For all New York area transportation updates, head here.
■ Trash collection has been canceled in New York City on Monday, but New York has it much better than some other cities.
■ New York City schools will be open on Monday.
■ Much of Queens is still buried, but the city is working on it.
The Second-Biggest NYC Snowstorm Ever
The 2016 blizzard, dubbed "Snowzilla" by many, was the second-biggest snowstorm in New York City since 1869 when records started, and ended up depositing 26.8 inches of snow in Central Park, just one-tenth-of-an-inch below the top spot. Regardless, the storm still set a one-day snowfall record, with Saturday's 26.6 inches beating the previous 2006 record of 24.1 inches. In addition, while Central Park was the official indicator for the city, it was actually on the low end when it came to citywide accumulation. Williamsburg got 29 inches, and parts of Staten Island and Queens received over 30 inches, including a city high of 34 inches in Jackson Heights.
Here's what Snowzilla looked like, in radar:
Beyond New York
Across the rest of the East Coast, tens of millions of Americans are also digging out from the enormous weekend storm, which stretched nearly 1,000 miles from the Gulf Coast to New England, and deposited well over three feet of snow in some places, amounts that surpassed what some locations would normally expect to see in an entire year. Washington, D.C., got at least 17.8 inches at Reagan National Airport, though that is likely very low due to a measuring error. Dulles Airport got 29.2 inches. The White House got 22 inches. Most of the country is covered in snow. 
Federal offices in the D.C. area will be closed on Monday. The House called off what was already slated to be a short schedule this week, but senators are expected to be back at work on Tuesday afternoon. While the D.C. Metro was still closed on Sunday, "extremely limited" service will return on Monday.
Maryland got clobbered as well, and Governor Larry Hogan has said he will request FEMA assistance to deal with the aftermath. Baltimore's mayor, meanwhile, has no idea when the city's streets will be fully cleared of its record-breaking snowfall.
For a literal overview of the storm's impact, here's a satellite image taken Sunday morning:
And here, via the National Weather Service, is a look at accumulation totals across the East Coast: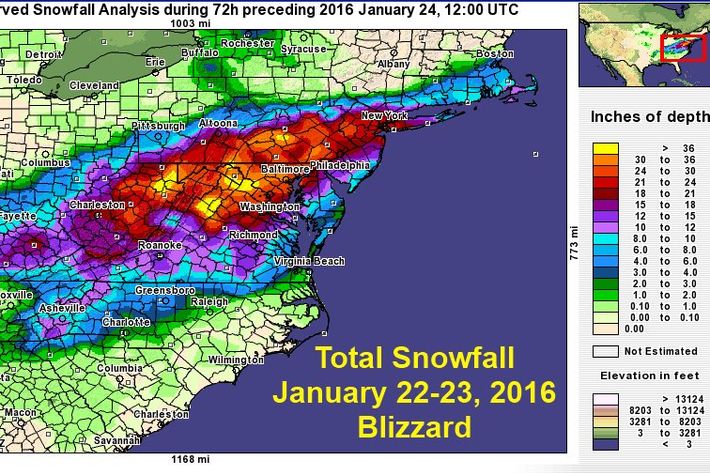 (For exact location-by-location totals, head here.)
There were at least 30 deaths related to the storm across the East Coast, mainly from traffic accidents as well as heart attacks and carbon-monoxide accidents related to shoveling, according to the Associated Press.
Regional air travel remains at a near standstill following more than 12,000 weekend cancellations and counting, as flights have already been grounded as far ahead as Tuesday. 
As Weather Underground explains, major flooding struck towns along the coast in southern New Jersey and Delaware, which saw four-to-five-foot average storm surges. The slow-moving storm combined with full-moon tides to create record-breaking storm tides in some places as well, with Cape May and Stone Harbor, New Jersey, seeing more than nine-foot storm tides that broke records set previously by Hurricane Sandy. Less intensive flooding also struck northern New Jersey and Long Island coastal towns.
It took until Sunday morning to free drivers from a 40-mile stretch of the Pennsylvania Turnpike that turned into a snow-snarled parking lot on Friday night. As a result, stranded drivers — including two entire university sports teams — were forced to spend not one but two nights huddled in their vehicles. Similar snow-jams struck highways in Kentucky and West Virginia, and numerous interstates were closed across the East Coast on account of whiteout conditions on Saturday.
Power outages struck more than 200,000 homes and businesses from North Carolina to New Jersey, as well. And trash service is going to be a mess in many cities this week. Things could get stinky. 
Schools will be closed on Monday in D.C., Philadelphia, and Baltimore, as well as many other districts along the East Coast.
The Records
Thanks to the size and intensity of the storm, which produced as much as three inches an hour at times, total-storm snowfall records were set in Baltimore and Newark, as well as the Pennsylvania cities of Harrisburg and Allentown. JFK and LaGuardia also set snowfall records (with 30.5 inches and 27.9 inches, respectively). All of those places, as well as New York City, set single-day snowfall records, too.
As FiveThirtyEight put it, "The Most Ominous Snow Forecasts Were Right."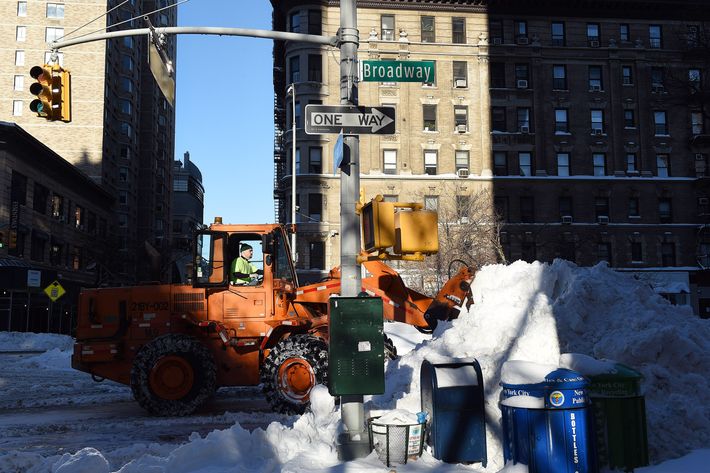 What's Next?
Thanks to El Niño, things should warm up again on the East Coast pretty soon. As the Boston Globe notes, February and the tail end of winter should feature "above-normal temperatures across much of the continental U.S." Of course, that doesn't mean we won't get another whopper of a nor'easter — it just means that in between any hypothetical snowstorms, we should be blessed with weirdly warm weather, similar to what we got used to earlier this winter. 
The slow warming also means that we will probably face a terrifying future of endless slush puddles, if Twitter is any indication. Let's hope everyone has a good pair of waterproof boots.
That slush could refreeze if temperatures cool tonight, making the sidewalks and roads slippery. Regardless of what happens, traveling around New York this week is going to be interesting, no matter how you choose to get around.
New York Updates As of Early Monday Morning:
Road Travel
The New York travel ban was lifted on Sunday morning, and all bridges and tunnels are open. However, officials would still like it if everyone stayed off the roads. There is still a lot of plowing and snow-moving left to do.
Mayor Bill de Blasio and Governor Andrew Cuomo are feeling pretty good about how the city is looking right now. "I think this is the shape of things to come," de Blasio said, "which means we're going to put even more warnings in place going forward; we're going to tell people preemptively to get ready to shut their businesses and do other things in advance." 


Subways and Buses
■ MTA bus service is running again, albeit with delays and some route changes.
■ Essentially all above-ground subway service was restored as of 7 p.m. Sunday. The MTA reports "good service" systemwide, with the following exceptions: In Queens, F trains are running local between 36th Street and Forest Hills-71 Avenue; and in Manhattan, D trains are running local between West 4th Street-Washington Square and 145 Street. This weekend marked the first time the MTA halted service on all above-ground stations while maintaining service to most underground stations.
■ The PATH train is still not running between Newark and Journal Square in New Jersey. There is service on most other lines, including between Journal Square and the World Trade Center.
Ferries
Operational.
Train Service
■ Metro-North service is now restored.
■ LIRR was shut down and the tracks and switches were a total mess on Sunday, but officials expect to open seven of its 12 lines by Monday at 5 a.m. Service to the Hempstead, West Hempstead, Far Rockaway, and Long Beach branches will need more time to restore. Service to Atlantic Terminal in Brooklyn will also remain down until further notice, but customers can use their train tickets to take the subway.
■ NJ Transit: Rail, light rail and Access Link services will resume regular weekday service for Monday morning's commute, with the exception of the Gladstone Branch along the Morris and Essex Lines.
■ Amtrak's Northeast Corridor trains are running, albeit on a modified schedule.
Bike Share
Citi Bike stations will remain out of service through at least Monday while the company's snow-removal efforts continue. If you own your own bike, you're all set (but good luck with the slush).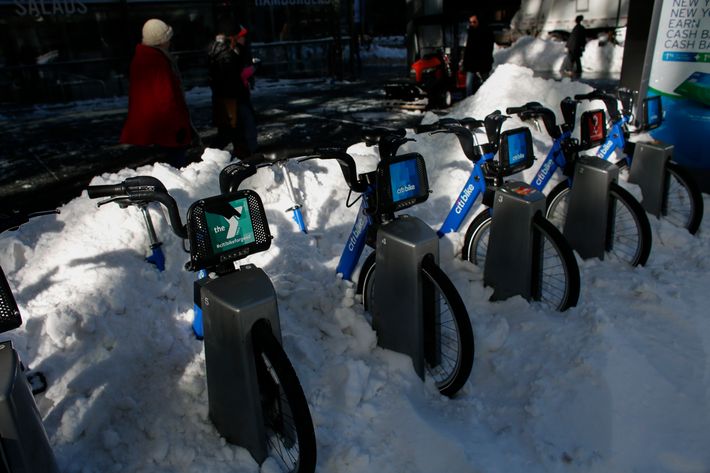 Air Travel
New York City airports are all open, but Governor Cuomo said the "vast majority" of flights at the city's three airports were canceled on Sunday. The New York Times reports that many travelers have been stranded at JFK for days, and some complained that both airport security and airline representatives have been unhelpful. It's unclear when the system will be fully operational, and New York airport officials have advised travelers to contact their airlines for details about specific flights. A 10 a.m. Jet Blue flight to the Bahamas did manage to take off Sunday, so we can all live vicariously through them.
Your Buried Car
Car-owning New Yorkers take heart: Alternate-side parking rules have been suspended for a week. But DO NOT leave friends, family, or pets in a running car while you dig it out if there is even the slightest chance your exhaust pipe is blocked — a mother and her infant child died of carbon-monoxide poisoning that way on Saturday night in New Jersey.
Yes, You Have to Shovel the Sidewalk in Front of Your Building/House.
It's the law, and good civic manners. And shovel out the fire hydrants, too, because you can't put out a fire with snowballs. If you have some health problems, however, arrange some help. 
And if you happen to own a business that has yet to shovel its sidewalk, prepare for some shaming. As DNAinfo notes, Park Slope residents have begun calling out unshoveled sidewalks on Twitter.
Want to Make Some Money Shoveling Snow?
The city is looking for some temporary emergency-snow-removal workers. You can make $13.50 per hour plus overtime. 
Trash Service
Monday collection is canceled. 
For the Kids
■ All New York City schools will be open on Monday, according to Mayor de Blasio.
■ All New York parks were open as of Sunday and sledding conditions were A++.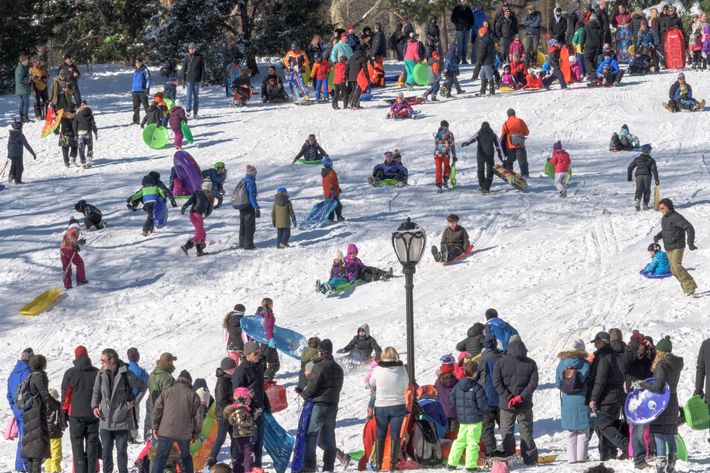 For the Dogs
Bring them out, too, they may have more fun than you do:
Saturday's Hamilton Ticket Holders Are Kind of Screwed
Per the New York Times, there was some bad news for the 2,600 people who paid up to $1,500 for tickets and traveled from as far away as San Diego to see one of Hamilton's two performances on Saturday. They will receive refunds, not tickets to a future performance, and the refunds might only happen for those who obtained their tickets through Ticketmaster. The next fully available Hamilton performances are about ten months away. 
Delays Unburying Queens  
During a midday Sunday press conference, Mayor Bill de Blasio acknowledged that snow-removal crews were still unearthing many neighborhoods in Queens. He said 850 city vehicles were working in the borough as of Sunday morning, including many that were transferred from other boroughs. According to the New York Times, the mayor's office attributed the delays to the sheer size of Queens, its many narrow streets, and the borough receiving more snow than other regions of the city. DNA Info reports that Jackson Heights received the city's highest snowfall total, at 34 inches, while JFK got 30 inches. 
De Blasio spent the rest of the afternoon touring parts of Queens, and said he expected the neighborhoods to be passable by Monday morning.
Several city lawmakers said de Blasio should have closed schools on Monday or at least delayed their opening, since parts of the borough are still in bad shape. "I'm very disappointed in the mayor's decision to keep the schools open, especially considering the treacherous conditions that so many of the roads are still in, and also based upon the fact that the city has closed schools with half the amount of snow and on much shorter notice," Queens city councilman Eric Ulrich told WCBS 880.
One longtime resident told the New York Daily News, "We never have good snow removal in the best of times. But this is the worst I can remember. All the bus stops are plowed in. I was afraid for my life waiting for the bus in the middle of 32nd Avenue this morning. I was afraid for the lives of the children and crossing guards at PS 159Q."
On Monday, de Blasio said things were still moving slowly. "I think what we've got in Queens is a mixed bag," he said, according to the Daily News. "South Jamaica, or Flushing, or Long Island City, or Astoria, even by yesterday morning or afternoon, things looked pretty good. In other neighborhoods, here in Woodside, Sunnyside, East Elmhurst, Corona … I was not satisfied with what I saw. And today it's better but there's still more to be done."
The Sad News
At least five New Yorkers died as a result of the storm, including two elderly men who died in Queens after shoveling snow, as did a 67-year-old man in Staten Island. Authorities remind those with health problems, and their relatives, that shoveling can be a very strenuous activity. As a reader mentioned in the comments, watch out for anything above you that's snow-laden as well.
Accidents and Travel-Ban Breakers
There were more than 400 car crashes in New York City during the storm, and there surely would have been more if not for the road-travel ban, which was put in place from 2:30 p.m. Saturday to 7 a.m. Sunday. According to the Times, dozens of motorists were ticketed for driving during the ban, and one man was arrested for a DWI very early Sunday morning in Bergen Beach, Brooklyn.
These guys weren't arrested:
New York Rats Meet Their Greatest Nemesis
They have vanquished pizza. They have defeated each other. Snow, however, may be too cunning a foe for even those with impeccable street smarts. 
This post will be continuously updated with more information about the storm's aftermath.