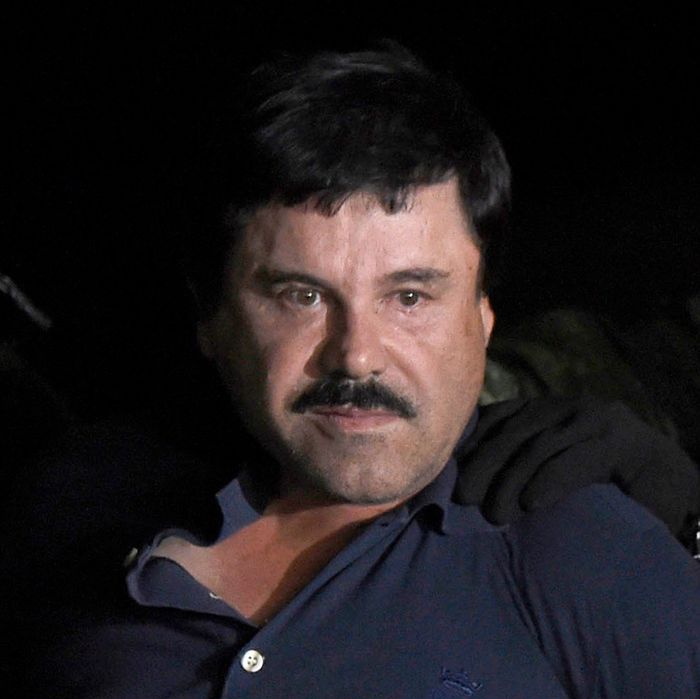 Just don't put him somewhere accessible by tunnel this time, maybe?
Photo: Alfredo Estrella/AFP/Getty Images
Notorious drug kingpin Joaquín Guzmán Loera — better known as El Chapo, or Shorty — was recaptured by Mexican authorities on Friday in the Pacific coast city of Los Mochis, Sinaloa State, and has been returned to the maximum security prison he escaped from six months ago. Found at least in part due to his efforts produce a biopic based on his own life, Guzmán may not get another chance to make drama in Mexico; on Saturday, the Mexican attorney general's office announced that the two-time prison escapee will now face hearings for possible extradition to the U.S.
Back in July, El Chapo, leader of the Sinaloa drug cartel, disappeared from his heavily guarded cell at Altiplano Prison — and escaped through a mile-long tunnel that was accessible through his shower. (El Chapo is a bit infamous for building very long tunnels.) The loud drilling that was taking place in El Chapo's cell shortly before his escape didn't prompt any guards nearby to intervene, and the escape led to an enormous manhunt, numerous arrests, and an overall spectacular embarrassment for the Mexican government. 
While Mexico's ability to imprison Guzmán remains an open question, Mexican law enforcement is clearly getting better at tracking him down; the last time El Chapo escaped from prison, in 2001, it took 13 years to find him — though this time they apparently had help from El Chapo's big ego. Mexican attorney general Arely Gómez González announced in a press conference late Friday that Guzmán, after escaping from prison, he had his associates begin work on a biopic based on his life, even going so far as to contact film producers and actresses. Those connections were then discovered via law enforcement surveillance efforts, and eventually helped lead to Guzmán's location. (If El Chapo's movie had gotten underway, it would have been the third one about his escape to go into production.)
The AP reports that El Chapo was detained after a shoot-out at a compound in Los Mochis early on Friday morning, after authorities had tracked him to the city and eventually received a tip from a neighbor worried about people with guns in a nearby house. Mexican marines reportedly "seized two armored vehicles, eight long guns, one handgun and a rocket-propelled grenade launcher" from the house where the shots were fired from. Five suspects were killed, and another six were arrested, according to the AP. The New York Times reports that Guzmán and an associate escaped from the compound through — what else — a sewer tunnel, and then stole a car, but Guzmán was quickly apprehended on a nearby highway. By Saturday, the escape artist was once again at Atiplano Prison, presumably in a room without surveillance blind spots or attached multimillion-dollar tunnels. 
Mexican president Enrique Peña Nieto was the first to break the news via Twitter, writing in Spanish,"Mission accomplished: We have him," and the DEA was quick to applaud on Twitter:
It was originally not clear whether Mexico would try El Chapo at home, eager for the show of another win against the drug lord, but on Saturday, the AFP reported that, according to the Mexican attorney general's office, Guzmán would face hearings for possible extradition to the U.S. Those hearings will be the result of two previous extradition requests the U.S. made for Guzmán last year, though his lawyers are expected to fight any attempt at extradition, as they have continued to do even while he was still at large. Any extradition process would take many months as it plays out in the Mexican judicial system.
About three weeks before El Chapo escaped, the U.S. asked Mexico to hand him over so he could be held in a more secure facility. Last January, Mexico's then–attorney general said, "El Chapo must stay here to complete his sentence, and then I will extradite him. So about 300 or 400 years later — it will be awhile." Mexican judges flip-flopped about whether to extradite El Chapo, finally deciding that he should stay put if captured again, but it seems that the wind is now blowing in the other direction. 
Between the El Chapo thing and additional worries about Peña Nieto's human-rights record, the U.S hasn't been too happy. One DEA agent told The Atlantic back in July, "I think the relationship has been set back 10 years. If we can't trust them to keep Chapo in jail," he wondered, "then how can we trust them on anything?" After having to arrest Guzmán for a third time, it appears as though Mexico wants to make sure it won't ever have to do it for a fourth.
This post has been updated throughout to reflect new developments in the story.