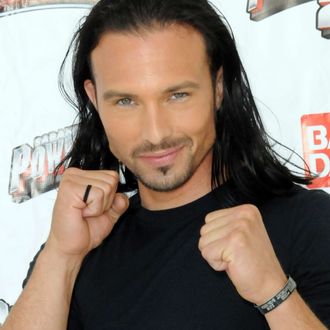 Medina, arrested today.
Photo: Albert L. Ortega/Getty Images
Ricardo Medina, Jr., an alumnus of Power Rangers, Haim Saban's too violent but still somewhat earnest TV show about a team of color-coded action heroes, is the latest former cast member to find himself in a dark story line offscreen. Last year, the 36-year-old — who played Red Lion Wild Force Ranger in 2002, and has been in a variety of Power Rangers productions since — was picked up for allegedly running his roommate Josh through the abdomen multiple times with a sword. Medina was never charged, owing to a lack of evidence, after his attorneys claimed he had been defending himself and his girlfriend in his Green Valley home. Medina, upon his release, said he was "very, very, very sorry for what occurred."  
On Thursday, this Chekhov-with-jumpsuits plot continued as Medina was hauled back into jail, facing a murder charge and a life sentence for the stabbing. Prosecutors plan to ask for bail to be set at $1 million. 
The ranks of former Power Rangers already include at least one convicted murderer. In 2004, Skylar Deleon, who as a 14-year-old appeared on the original Mighty Morphin Power Rangers series, drowned an elderly couple after posing as a potential buyer of of their yacht, the Well Deserved. (During a fake test drive, killers tied the victims to the boat's anchor and threw them overboard.) Deleon was sentenced to death in 2009, as was a co-conspirator named — as if this story were not strange enough — John Fitzgerald Kennedy. Deleon's wife got back-to-back life-prison terms, and two accomplices also went to jail.
In a far smaller post–Power Rangers misstep, the original Black Ranger, Walter Jones, was arrested for drunk driving in 2009. The original Yellow Ranger, Thuy Trang (who was Vietnamese-American; the suits used to be race-coordinated by color), was killed in a car accident at 27 in 2001.