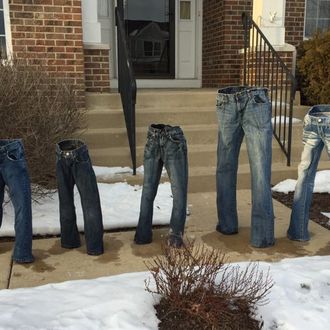 As freezing temperatures move across the Midwest, it's finally Frozen Pants season. Frozen Pants! Surely you know what those are. Okay, imagine pants. Good, okay now visualize them … frozen and standing up. The pants look as they do when worn by a person, but here's the twist: Nobody's wearing them. What if pants were worn by a ghost? That's what frozen pants are.
Minneapolis's Star Tribune traces the Frozen Pants phenomenon sweeping (a small section of) the nation to 61-year-old Tom Grotting. He soaks the pants in water and then poses them on his lawn. This year, he challenged the "I Love NE Minneapolis" Facebook group (closed but 11,000 members strong) to make their own frozen pants. Grotting's neighbor called it "the only funny thing about this weather."
And it is funny! Look at these peopleless pants!
Keep freezin' those pants, gang!