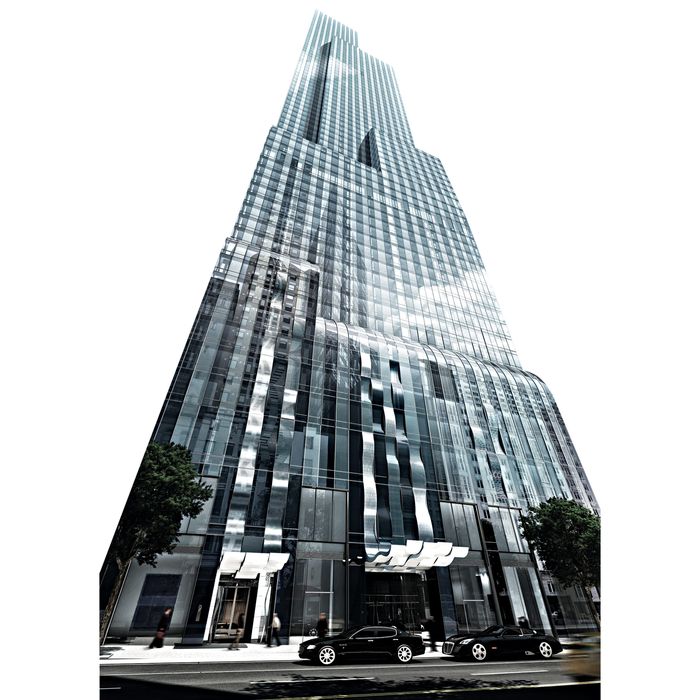 So, did we build this thing for nothing?
Over the last few years, New York's luxury housing market was propelled upward by a geyser of global wealth. Foreign billionaires, hiding discreetly behind impenetrable corporate structures, bought up the city's most expensive condos, and developers began erecting 1,000-foot skyscrapers to cater to their demand. Democrat Bill de Blasio, talking about a "tale of two cities," won the mayoralty on the back of concerns about rising housing costs and income inequality. Now, however, the real-estate market is shifting. And just as in the original, the tale of two cities is not ending well for the rich folks.
The latest blow came from the U.S. Treasury Department, which Wednesday announced new regulations meant to pierce the secrecy surrounding luxury real-estate transactions. The move follows investigations by several publications — including this one — into the Manhattan condo market, where properties are often bought and sold by anonymous limited-liability corporations in all-cash deals. The federal regulators are apparently concerned that the opacity of such transactions could make them an ideal vehicle for money laundering. But the move sent a shock wave through the world of high-end real estate, where secrecy is not just considered respectable — it's a key selling point.
"You don't kill an ant with an atom bomb," said attorney Bruce Cohen, who has handled the closings of some of New York's most expensive condo purchases.
Cohen said that much remained to be seen about the details of the monitoring, which would initially be a short-term program focusing on large cash purchases in Manhattan and Miami. But he, like many others in the industry, was fearful of the mere suggestion that the government could force buyers to give up their names. "If their net is too wide," he said, "they could be capturing innocent people who as a result will say, 'You know, I'll buy in London instead.'" And a chilling effect is the last thing the luxury condo market needs right now, because it already appears to be in the midst of a painful freeze.
True, the median sales price for a two-bedroom Manhattan condo is nearly $2 million, according to the latest quarterly market report from Douglas Elliman, but there's been a marked slowdown of late at the top of the market, which has been particularly dependent on foreign wealth. A few years ago, when condo developers started throwing up skyscrapers all along 57th Street — nicknaming it "Billionaires' Row" — the market was awash with money from emerging markets like China, Brazil, and Russia. Now all three of those economies are in turmoil. The price of oil has fallen, which means there are fewer Russian oligarchs and Gulf State sheikhs in the market for $100 million penthouses. Meanwhile, the dollar has strengthened, making New York real estate look less like a global bargain — even before you take into account uncertainty over whether the city will raise the "mansion tax" on high-priced real estate.
At One57, the first of the 57th Street developments, one unit recently resold for a $1 million loss. Sales have been sluggish at similarly positioned developments, forcing developers to do the unthinkable: offer price cuts. "What brokers tell me, and have been telling me for a year, is that the sense of urgency isn't there," said Jonathan Miller, the real-estate analyst who writes the Elliman report. "They can see competitors being built all around the buildings they are looking at." Now, on top of that, the government is threatening to remove one of the things that foreign buyers like best about New York apartments: the fact that, with relative ease, their ownership can be made untraceable. "There's this cloud of uncertainty," Miller said. "When people are confronted with this, they just press the pause button."
"It's definitely a cause for concern, as any time more regulation is introduced, it creates an additional barrier to purchase," says S. Hunie Kwon, an Elliman broker who has a large Chinese clientele. Though the use of LLCs has come under much scrutiny, Kwon — like many people in his business — protests that there are plenty of reasonable justifications for employing such vehicles. "The vast majority of luxury buyers purchase in different entities to shield their privacy, or for tax purposes, not because the funds are illicit," he says. A wealthy family might not want its name on public property records; investors might not want to reveal their holdings to competitors. Foreign buyers almost always use LLCs, but so do plenty of Americans: Wealthy people universally prize discretion.
In a statement released yesterday, the Treasury Department's Financial Crimes Enforcement Network said it is seeking to determine whether the same legal structures that protect legitimate buyers also shield "corrupt foreign officials, or transnational criminals." Officials have said they were moved to action, in part, by widespread press coverage of alleged malfeasance cloaked by LLCs, including voluminous recent series in the New York Times. For six months, starting in March, the agency will require title insurance companies to determine the "beneficial owners" behind LLCs on cash purchases for over $3 million in Manhattan, and it will see what mischief it finds.
Edward Mermelstein, a New York attorney who represents many Russian real-estate investors, pointed out that announcing the monitoring — in advance, in the international press — might not be an effective way to track wrongdoing. "I've been trying to figure this out amongst my colleagues, and we've come to the realization that this is more of a scare tactic," he said. "My feeling is there is an ulterior motive to some of this, and it's very likely that there is a large group of individual investors that is being targeted, whether Chinese or Russian." He contends that the industry is already well-monitored by existing regulations and professional practices. "There has actually been a substantial slowdown in cash sales," he added. "It's a little bit late in the game to do this."
But Jason Sharman, a professor at Griffith University in Australia who is a leading expert on the use of shell companies in money laundering, said that the government's trial approach "seems to be pretty judicious." The devil will be in the details of enforcement, which have not yet been publicly released. How, for instance, will title insurers verify the identities of buyers located in distant authoritarian nations like China or Russia? And at least in theory, international criminals could always take the risk of purchasing property without title insurance.
"It is definitely worth investigating these all-cash transactions," says Shima Baradaran Baughman, a law professor at the University of Utah. "I worry, though, that it will be hard to actually get to the bottom of where the money is coming from, because there can be layers of LLCs before you get to an actual individual behind it."
Still, the experts say, it's a move in the direction of transparency. "They are looking in exactly the right places," Sharman said, "and at the right segment of the market."
This post has been updated throughout.