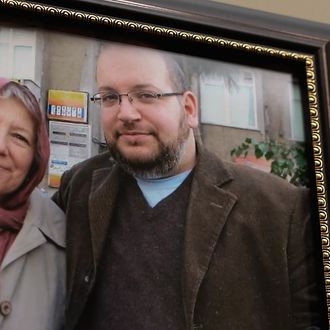 Rezaian, right, spent 18 months in Iran's infamous Evin Prison.
Photo: Chip Somodevilla/Getty Images
Iranian authorities announced on Saturday that they released four Iranian-Americans as part of a prisoner exchange with the U.S., including Washington Post reporter Jason Rezaian. Marine veteran Amir Hekmati, Christian pastor Saeed Abedini, and a man named Nosratollah Khosavi-Roodsari were also released, and all but the latter have now flown to Europe on their way back to the U.S. The prisoners the U.S. exchanged as part of the deal had been charged with violating sanctions against Iran. "[O]ur detained U.S. citizens have been released and that those who wished to depart Iran have left," confirmed a senior White House official on Sunday. "We have no further information to share at this time and would ask that everyone respect the privacy of these individuals and their families." From that statement, it seems that the fourth prisoner, Khosavi-Roodsari, remained in Iran by choice. A fifth American was also released by Iran in a separate move, and has also left the country. In related news, as soon as the plane carrying the American prisoners had left Iran, the White House announced a small set of new sanctions on Iran over the country's recent ballistic missile tests.
The Guardian reports that a U.S. official said of the deal that "We offered clemency to seven Iranians, six of whom are dual US-Iranian citizens, who had been convicted or are pending trial in the United States. The United States also removed any Interpol red notices and dismissed any charges against 14 Iranians for whom it was assessed that extradition requests were unlikely to be successful."
The 39-year-old Rezaian, a dual American and Iranian citizen, was the Post's widely respected bureau chief in Tehran before being arrested in July 2014 on charges of espionage, though Iran never produced any credible evidence that the charges had any merit, and the Post has repeatedly dismissed Iran's claims and called his prosecution a sham. (Rezaian's dual citizenship never mattered because Iran does not recognize the dual nationalities of its citizens.) He was convicted in November after a closed trial, and in all served 18 months in Iran's notorious Evin Prison. No other Westen journalist has ever been imprisoned in Iran for as long as he was. Rezaian's Iranian wife, Yeganeh Salehi, who was arrested with Jason but later released, had her travel ban lifted and joined her husband on the plane out of Iran, as did Rezaian's mother, seen in the photo above.
Said Washington Post publisher Frederick J. Ryan Jr. in a statement, "We are enormously grateful to all who played a role in securing his release. Our deep appreciation also goes to the many government leaders, journalists, human rights advocates and others around the world who have spoken out on Jason's behalf and against the harsh confinement that was so wrongly imposed upon him."
Hekmati, a 32-year-old Marine veteran, was arrested in 2011 after returning to Iran to visit his grandmother. Pastor Abedini, 35, was arrested in 2012 on charges he was undermining Iran's national security by establishing a house-church movement in the country. Next to no information is yet known about Khosavi-Roodsari, whose incarceration had not been previously publicized, but Iranian media has said he is some kind of businessman, and it seems that he has remained in Iran by choice. The fifth American released was a 30-year-old language student named Matt Trevithick who had been held for 40 days in Evin Prison.
According to the Post, the U.S. officials say went with an exchange because Iran was looking for a "goodwill gesture" to go along with the release of the Americans. Iran submitted a list of candidates for release and the U.S. then "whittled down" that list to exclude those who committed violent or terrorism-related crimes. Deal negotiations took months, according to the Associated Press, and a major sticking point was that the U.S. kept rejecting the candidates Iran put forward. Eventually, Obama made the final call on who was to be exchanged, and those individuals were only ones who had violated the nuclear sanctions (which were about to be nullified anyway). One U.S. official told the Post that it was a one-time deal and that he didn't think it would encourage the Iranians to expect additional similar deals in the future, a concern that Republicans brought up about the exchange on Saturday. The other lines of attack from Republican presidential candidates on the deal were that it took too long and that the U.S. gave too much, or shouldn't have had to give anything at all.
"This should have been done three, four years ago, when the [nuclear] deal was struck. Before the deal was made­ … they should have said, 'We want our prisoners back,' " declared GOP front-runner Donald Trump, who called the lateness of the deal a "a total disgrace."
Two Americans were not included in the exchange. One, businessman Siamak Namazi, was reportedly arrested in October, and U.S. officials indicated on Saturday that were still hopeful they would be able to obtain his release as well. The other is former DEA and FBI agent Robert Levinson, who disappeared while traveling to Iran eight years ago. His whereabouts, or if he is even still alive, remains unknown. Speaking about the prisoner exchange on Sunday, President Obama said that Iran has agreed to "deepen coordination" towards locating Levinson, and insisted that "we will not rest" until he is reunited with his family.
The New York Times reports that the deal was announced to coincide with the lifting of nuclear sanctions against Iran. Many had criticized the nuclear peace agreement with Iran, which was reached with the U.S and other world powers in July, for not including the release of Iranian Americans held by the regime. On Saturday, the U.N. Nuclear Agency certified that Iran had met its commitments under the agreement, and the U.S. and E.U. confirmed that they would be lifting sanctions as stipulated in the deal. However, once the plane carrying the three American prisoners left Iran, the U.S. announced that it was imposing new sanctions, on 11 Iranian individuals and companies, over recent ballistic missile tests by Iran. Those sanctions are allowed under a preexisting sanctions regime that was unaffected by the nuclear agreement.
This post has been updated throughout to include new developments in the story.