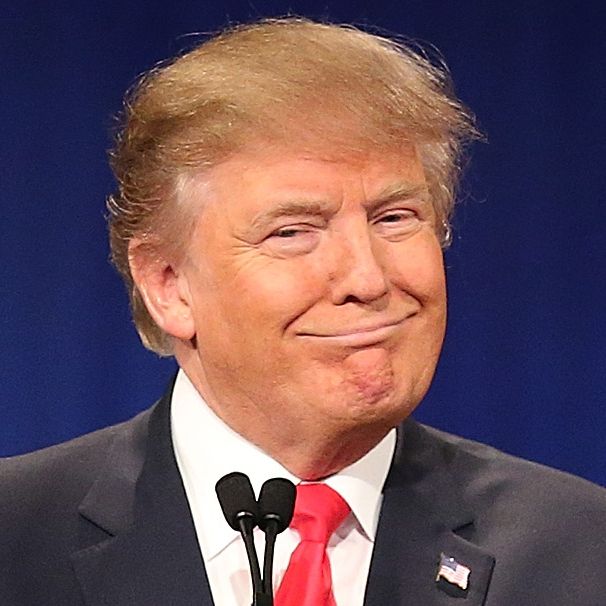 Hope you got enough of this in the first six debates.
Photo: Scott Olson/Getty Images
The first six times we watched Donald Trump were pretty exciting; there were revolts against the moderators, perfectly executed 9/11 slams, and Jeb Bush jabs galore. But as a consummate showman, Trump knew it was time to freshen up the act (also, he might be afraid of Megyn Kelly). Thus, he sent the political and media worlds into a tizzy this week by making good on his threat to boycott the Fox News–hosted GOP debate on Thursday night. As his rivals face off, he'll hold a competing event to raise money for veterans, possibly with some cameos from D-list candidates. Here's a guide to get you up to speed, and be sure to tune in later for Daily Intelligencer's liveblog and complete coverage of whatever goes down on Thursday night.
When and where are the debates being held?
Thursday, January 28 at 9 p.m. ET. The undercard starts at 7 p.m. ET. The debates, which will broadcast from the Iowa Events Center in Des Moines, offer the candidates one last chance to face off before the Iowa caucus on Monday.
How can I watch them?
Those who do not have cable access can livestream the debates for free on FOXNews.com, with no login required. They will also be available on Fox News Radio, Fox News Mobile, and the Fox News Go app.
Who's still attending?
There were some interesting changes in the lineup, but they were completely overshadowed by Trump's announcement. In addition to the real-estate mogul, Ted Cruz, Marco Rubio, Ben Carson, Jeb Bush, Chris Christie, John Kasich, and Rand Paul qualified for the main debate. That's big news for Paul, who didn't make the cut for Fox Business Network's main debate earlier this month. He chose to boycott the undercard, declaring that his operation isn't "second tier." (He seems to have gotten over his concerns about the subjectivity of polling, and has confirmed that he'll be there on Thursday.)
Fox News's criteria was the same as Fox Business Network's: "In order to qualify for the primetime debate, candidates must place in the top six spots nationally in an average of the five most recent national polls, or place within the top five in Iowa or New Hampshire in an average of the five most recent Iowa or New Hampshire polls recognized by Fox News."
For the undercard, candidates only needed to register one percent in one of the five most recent national polls, and there's a surprise at the kids' table, too. Like last time, Carly Fiorina, Mike Huckabee, and Rick Santorum qualified for the earlier debate — and they'll be joined by Jim Gilmore, who hasn't qualified for a debate since August.
Who's moderating?
The same team from the first GOP debate way back in August: Bret Baier, Chris Wallace, and of course, Megyn Kelly. The undercard will be helmed by Martha MacCallum and Bill Hemmer. The debate's awkward social-media integration will be provided by Google Trends.
What will the stage look like?
While some speculated that a podium would be left open for Trump, the network confirmed that they aren't devoting the middle of the stage to an empty lectern. "There will be no empty podiums just as we didn't do an empty podium with Rand Paul when he boycotted the FOX Business Network debate two weeks ago," said a Fox News spokesperson.
The network hasn't released many promotional shots of the stage (it's almost like they don't think they need more publicity), but Bret Baier did a broadcast from the debate hall.
How are the candidates preparing?
The other campaigns are holding practice sessions with and without Trump stand-ins, according to the Associated Press, because some are still weirdly confident that he'll be there. "I've got a $20 bet he shows up," Jeb Bush told reporters on Wednesday. (Looks like somebody learned from Mitt Romney's $10,000 bet gaffe! On the other hand, Bush went on to compare Trump to "a Stradivarius violinist in the Vienna symphony.")
Some are expecting Cruz to fill the Trump vacuum in Thursday's debate, and Rubio tried to position himself as the true grown-up on stage. "These kinds of theatrics by Ted Cruz and Donald Trump are an entertaining sideshow, but they have nothing to do with defeating Hillary Clinton," Rubio said. "We don't have time for these kinds of distractions."
Having two hours to speak without being interrupted by his main rival may be good for Cruz, but he's actually itching for another showdown (or at least, wants people to think he is). Shortly after Trump announced his boycott, Cruz challenged him to a one-on-one debate, and he won't let up, despite Trump's Twitter mockery:
Cruz issued a proposal for a two-man, town hall–style debate, specifying the time, location, and potential moderators. Two super-pacs supporting Cruz have pledged to donate $1.5 million to charities serving veterans if Trump shows up.
Even if Trump won't take him on, the Texas senator is trying to score points from the boycott. At an anti-abortion rally in Des Moines on Wednesday night, Cruz kept referring to Trump as "gentle Donald." "At the end of the day it's not really that Donald is afraid of Megyn," Cruz said. "He's afraid of you. He doesn't want to answer questions from the men and women of Iowa about how his record doesn't match what he's selling."
Cruz must be doing something right, because Carly Fiorina is trying to snatch some of his publicity:
What will Trump be up to on Thursday night?
On Wednesday afternoon, his campaign sent out inviations to the "Donald J. Trump Special Event to Benefit Veterans Organizations" at Drake University in Des Moines. CNN reported that the event starts at 9 p.m. ET, with a "pre-program" at 8 p.m. ET.
Trump might get some support from fellow GOP candidates. His campaign manager, Corey Lewandowski, said on Wednesday morning that he had heard from other candidates "proactively" about attending Trump's event. He didn't elaborate, but he was probably referring to the candidates participating in the undercard debate. The two venues are just three miles apart, so it wouldn't be hard for them to make an appearance.
It's unclear if the event will be televised, but naturally interest in Trump's counter-programming is high. Though it takes place at the same time as Fox News's debate, the network confirmed its designated Trump reporter will be covering the veterans benefit.