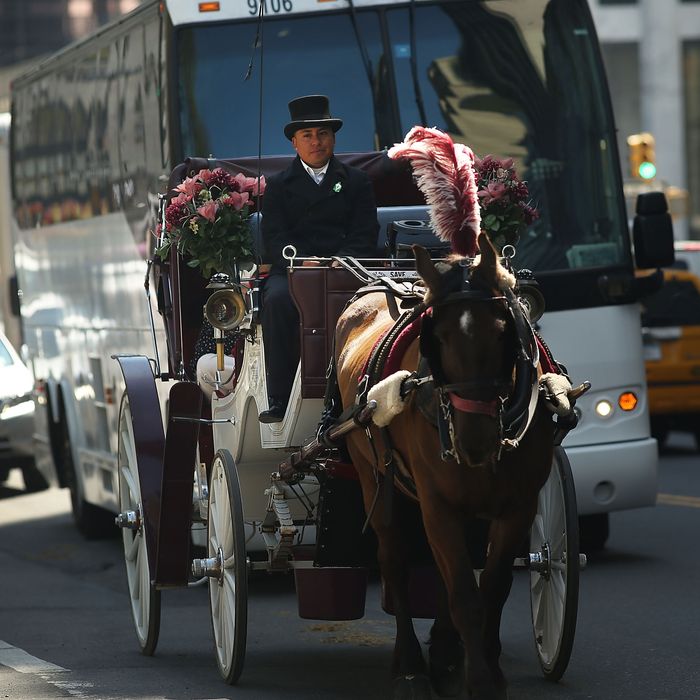 You won't be seeing this for much longer.
Photo: Spencer Platt/2014 Getty Images
Good morning and welcome to Fresh Intelligence, our roundup of the stories, ideas, and memes you'll be talking about today. In today's edition Mayor de Blasio's feud with Central Park's carriage drivers appears to be resolved, the Democrats held an awkwardly timed debate, SpaceX stumbles, and Whacking Day is all too real. Here's the rundown for Monday, January 18.
WEATHER
Lots of extreme weather over the weekend: Thunderstorms and deadly tornadoes struck Florida, storms continued to inundate Northern California, and some of the first snow of the season dusted New York City. Monday will see a high of 28 degrees in the city, with a chance of flurries. [AccuWeather]
FRONT PAGE
Future of NYC Carriage Horses Is Stable
The de Blasio administration announced a deal late on Sunday that will end the mayor's long headache over Central Park's horse-carriage industry. Under the agreement with the carriage drivers, the number of horses will drop from 180 to 95, the animals' work day will go down to nine hours, and they'll be confined to the park, with the city springing for new stables. City council must approve the deal, and a hearing could take place this week. [N.Y. Daily News, NYT]
EARLY AND OFTEN
Clinton, Sanders, and Other Guy Butt Heads in Lively Debate
Hillary Clinton and Bernie Sanders got a bit meaner in Sunday night's NBC News/YouTube debate (though their feud is still nothing compared to what's happening on the Republican side). Sanders jabbed Clinton, and the entire political system, for being too close to the big banks. Meanwhile Clinton, whose once-substantial lead has narrowed considerably heading into the Iowa caucuses, suggested she's the only candidate who will make Obama's third term a reality.
Sanders Cribs Bulworth Health Plan
Just hours before the debate, Bernie Sanders unveiled his plan for universal health care. As promised, the plan is predicated on a substantial tax hike on high-earners — up to 52 percent for people making over $10 million a year. That's exactly 52 percent more than Trump's proposed tax plan. [Reuters]
Trump Gives Cruz Another Taste of New York Values
Last week Donald Trump responded to Ted Cruz's attack on New York with a burn so good the senator literally applauded, but the front-runner still isn't over it. "He's a nasty guy," Trump said on ABC's This Week. "Nobody likes him. Nobody in Congress likes him. Nobody likes him anywhere once they get to know him." Trump then uninvited Cruz to his birthday party. [Bloomberg]
Alabamans Feign Surprise at Corrupt Governor
Alabama's Republican governor Robert Bentley is under attack for using funds awarded to the state by BP after the Gulf of Mexico oil spill to renovate the historic mansion he uses as a coastal retreat. It's like a really boring episode of True Detective down there. [Vice]
THE STREET, THE VALLEY
Apple Tries New Strategy: Alienate Customers
Apple has announced that it is phasing out the popular, free iTunes radio and will start only offering the service to paying subscribers. Beats 1 will remain free, so if you've actually listened to Beats 1, enjoy. [CNN]
SpaceX Flight a Success Despite Crashing
SpaceX, Elon Musk's private space-exploration company, is hailing a test flight over the weekend as a success, even though the rocket flubbed the landing, breaking one of its legs. The rocket did achieve its primary goal of launching a satellite into low orbit. [Popular Science]
Japanese Zombie Water Bears Rise From Dead
Japanese scientists are one step closer to realizing their goal of making the plot of Demolition Man a reality. They were able to revive water bears who had been frozen for more than thirty years. Before you get too excited, it turns out water bears are actually microscopic aquatic bugs. [WSJ]
World's Worst Uber Passenger Hits Reverse
Benjamin Gold, the ex–Taco Bell executive who was filmed drunkenly abusing his Uber driver, has retracted his apology in favor of a lawsuit. In particular, he is suing the driver, saying the injuries he sustained when Gold punched him were his own fault for picking up such a drunk jerk. Seriously. [CNBC]
MEDIA BUBBLE
Non-Oscars Award Show Takes Place
Sunday night's Critics Choice Awards — the first time the Broadcast Film Critics Association and Broadcast Television Journalists Association have combined their annual award ceremonies — saw big wins for Spotlight, Leonardo DiCaprio, and Brie Larson.
AOL Distances Itself From AOL
AOL is considering changing its name in a bout of comprehensive re-branding after belatedly realizing no one thinks they're cool. Despite owning both Huffington Post and TechCrunch, the company is still best known for free CD-ROMs, and being the preferred mail service of Meg Ryan. [Business Insider]
PHOTO OP
"Disaster Zone" in Flint, Michigan
President Obama declared a long-sought state of emergency in Flint, Michigan, on Saturday to address the city's contaminated water supply. Below, Justin Roberson, 6, and Mychal Adams, 1, wait on a stack of bottled water at a rally where the Rev. Jesse Jackson called on officials to do more. "This is a disaster zone, not just an emergency," he said on Sunday. "Maybe there should be (police) tape around the city of Flint, because Flint is a crime scene."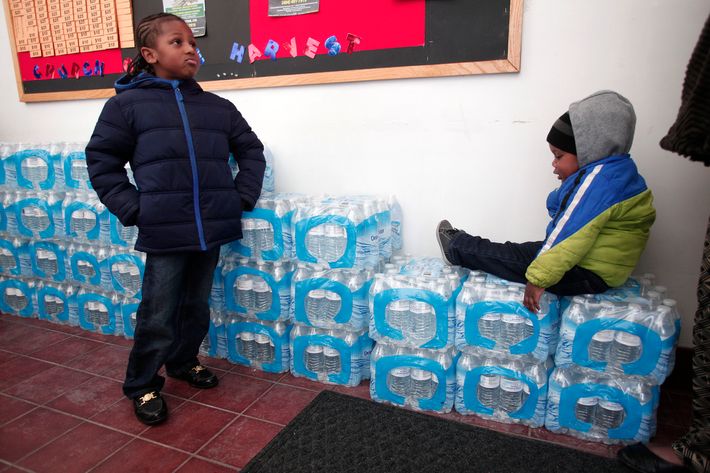 MORNING MEME
Debates are fertile ground for memes, and this one takes the night. No one throws shade like Bernie throws shade.
OTHER LOCAL NEWS
Florida Celebrates Whacking Day
The Python Challenge kicked off in Florida over the weekend. The state-sanctioned, month-long, gleeful bloodbath sees 600 cudgel-happy amateur snake hunters descend on the Everglades competing for prizes for most pythons killed or captured, and biggest python killed or captured. The python is considered an invasive species in Florida where it is wreaking havoc on the local ecosystem. [CNN]
In Other Snake News
A California doctor has been sentenced to 180 days in jail and three years of felony probation after poisoning her estranged husband's plants, hurling abuse at his new girlfriend, hiding rats in his house, and ultimately hiding a python in his house. Not sure what the endgame was there. [SFGate]
HAPPENING TODAY
Today Is Martin Luther King, Jr. Day
And a lazy day off is not a fitting celebration. There are events and marches across the country including a commemorative march in Harlem, an interfaith peace march in the Upper West Side, and the annual Martin Luther King, Jr. Holiday Parade in Washington, D.C.