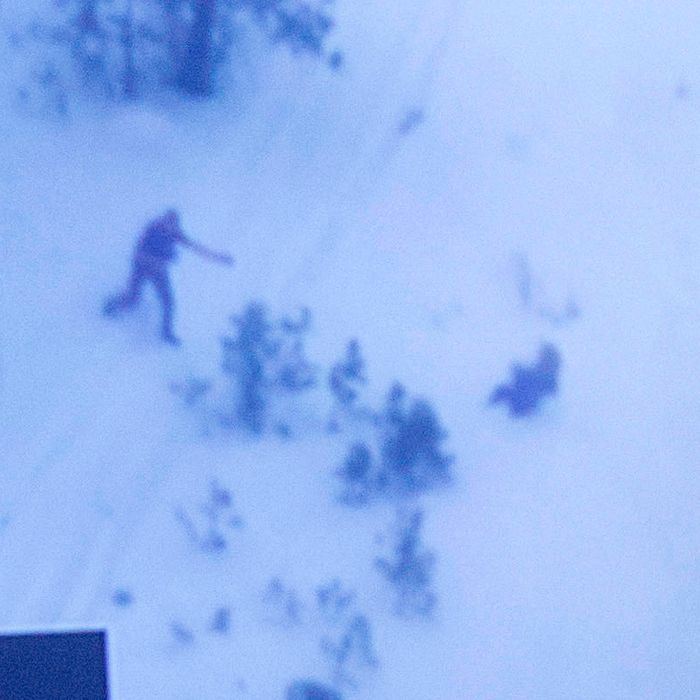 FBI special agent Greg Bretzing looks at a video of the shooting death of Robert "LaVoy" Finicum on January 28, 2016.
Photo: ROB KERR/AFP/Getty Images
Good morning and welcome to Fresh Intelligence, our roundup of the stories, ideas, and memes you'll be talking about today. In this edition, we see footage of the fatal shooting that ended the standoff in Oregon, Donald Trump resists the urge to crash the GOP debate, and Warren Buffet will be on Dancing With the Stars or something.  Here's the rundown for Friday, January 29.
WEATHER
Stormy days are here again. Rain storms — and a few snowstorms — are expected across the Northwest. We'll also see lighter snowstorms in the Great Lakes and farther east. Today, New York should be getting cooler with light rain, and warming up over the weekend. [USA Today]
FRONT PAGE
FBI Releases Video of Oregon Occupier's Fatal Shooting
The FBI released footage of Tuesday's shootout that killed Arizona rancher Robert "LaVoy" Finicum, spokesperson for the group occupying a federal building in Oregon. The video shows Finicum nearly hitting a law-enforcement official as he tries to speed around a roadblock. He exits his vehicle with his hands up, but lowers them to his body before he is shot. "On at least two occasions, Finicum reaches his right hand toward a pocket on the left inside portion of his jacket," said Greg Bretzing, special agent in charge of the FBI in Oregon. "He did have a loaded 9-millimeter semiautomatic handgun in that pocket." Eight of the militants were arrested this week, and now the four holdouts say they'll leave the refuge if the Feds promise not to press charges. We're not sure that's how that works. [LAT]
EARLY AND OFTEN
Donald Trump Hosts One Event, Haunts Another
The front-runner simultaneously commandeered two political forums on Thursday night, as networks covered his veterans' benefit and Fox News tried to cope with his debate boycott. Trump's event was a snooze and the debate held few surprises, but you still have to admire his showmanship.
Bernie Tells Us All About His Medical Ailments
Keeping an earlier promise, Bernie Sanders released a letter from his doctor yesterday. The senator is in overall good health but has been treated for a cyst on his vocal cord, diverticulitis, an overactive thyroid gland, and gout, among other minor ailments. So now we know what King Henry VII, Napoleon, and Bernie have in common. [NYT]

Biden Suggests God's a Democrat
"We may be given a gift from the Lord in the presidential race here," Vice-President Biden told House Democrats during their annual retreat in Baltimore yesterday. "I don't know who to root for more — Cruz or … what's that guy's name? He's having a fundraiser for veterans tonight, I'm told." Actually, maybe God's not a fan of the entire U.S. elections process? [CNN]
THE STREET, THE VALLEY
Chokers, Belly Rings, Now This?
The aughts are back and it's not just the music, the fashion, and the economy. Circuit City, where a generation bought their first Nintendo 64s, might be staging a comeback. The consumer-electronics pioneer's owners are planning on opening new stores where customers select what they want to buy on a touch screen. The future — and the past — is now. [NBC]

Amazon Sub-Prime
Not a very good day at Amazon. The online-shopping giant posted earnings yesterday, and despite having its third consecutive profitable quarter for the first time since 2012, it still managed to fall short of analysts' predictions. The announcement had stocks falling a full 13 percent yesterday. It looks like selling everything at reduced prices with free shipping isn't the best business model after all. [Reuters]

Buffett to Join Celebrity Apprentice — Did NeNe Say No?
This is some real end-of-days stuff. Previously respected investment guru and third richest man Warren Buffett announced yesterday that he will serve on the judge's panel of Celebrity Apprentice, joining Microsoft chief executive officer Steve Ballmer, Tyra Banks, and Jessica Alba. [Bloomberg]

Future Overlords Win Game
Nothing to worry about, computers have gained sentience, that's all. Google's Orwellian-sounding DeepMind team has shocked the computer-science world by developing a computer that could beat a human being at the Chinese strategy game Go. Go has too many potential moves for computers to calculate using brute force — like the computers that can beat humans at chess. This computer beat the reining Go champion five time in a row. [CNet]
MEDIA BUBBLE
Politico Playbook, Presented by Dizzying Changes
Politico has announced a raft of high-level departures coming after the election. Co-founder and CEO Jim VandeHei will be joined by executives Kim Kingsley, Roy Schwartz, Danielle Jones, and writer Mike Allen in leaving the operation. [CNN]
Reddit Pulls a Wall Street Journal
'Tis the season of the media shakeup and now it's Reddit's turn to make a change. CEO Steve Huffman announced yesterday that he is considering changing the site's front page. Huffman wants to optimize the site for mobile access and most controversially do away with default subreddits. [AdWeek]

This Will Be So Awkward When He's President
The Huffington Post has begun adding an addendum to every story about Donald Trump. It reads: "Note to our readers: Donald Trump is a serial liar, rampant xenophobe, racist, misogynist, birther and bully who has repeatedly pledged to ban all Muslims — 1.6 billion members of an entire religion — from entering the U.S." [Politico]
PHOTO OP
Have you seen this yacht? Paul Allen's megayacht, MV Tatoosh, stands accused of destroying 80 percent of a protected Caribbean reef. It is presumed to be alarmingly fancy and dangerous.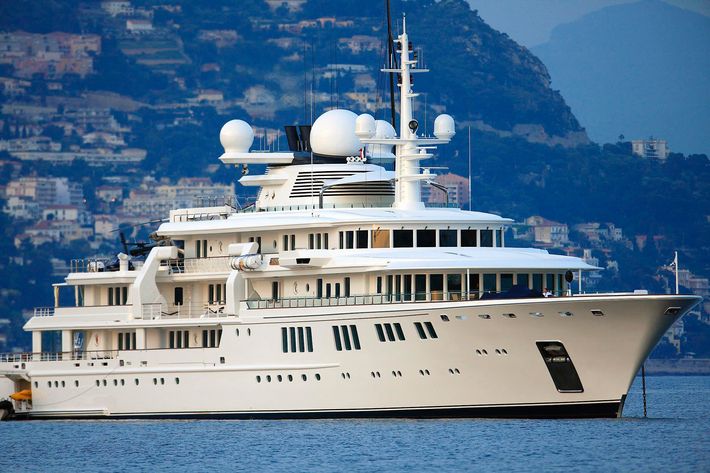 MORNING MEME
Still don't believe that everyone in Washington hates Ted Cruz? We submit this photographic evidence. [Gawker]
OTHER LOCAL NEWS
Five of Kitten's Nine Lives Go Down the Drain
Last week a man at a Michigan cattle auction found himself working with a much tinier animal when he heard a strange sound coming from a drain pipe. Inside he spotted a kitten, who had apparently crawled through 80 feet of pipe before getting her head stuck in the drain cover. "Bubbles" was freed and is "doing great." [UPI]
Disney Critters Not That Innocent?
An Alabama family is suing Disney after a wild snake fell onto their son while vacationing at Disney's Animal Kingdom in 2o14. They say the snake bit the boy, and the scene sent their grandmother into cardiac arrest, killing her. Disney claims the snake bite was no big deal; the grandmother didn't need an ambulance and the family went back to the park after the incident. Pretty big discrepancy there. [WESH]
HAPPENING TODAY
D.C. Finally Digs Out From Snowstorm
Nearly a week after Winter Storm Jonas hit, transportation in D.C. will be back to normal. As of Friday morning, Metrorail will be back on regular rush-hour frequencies on all lines. Buses are mostly back to normal, but the agency warns there may still be some delays. [DCist]
Even More Making a Murderer
If the ten-hour Netflix documentary and subsequent Redditing could not satisfy your true-crime needs, you can check out Friday's Dateline at 10 p.m. EST on NBC. It features a rare 2005 interview with Penny Beerntsen, the victim in the sexual assault for which Steven Avery was wrongfully convicted, and new interviews with prosecutor Ken Kratz and Brendan Dassey's lawyers, Steven Drizin and Laura Nirider. [NBC Chicago]