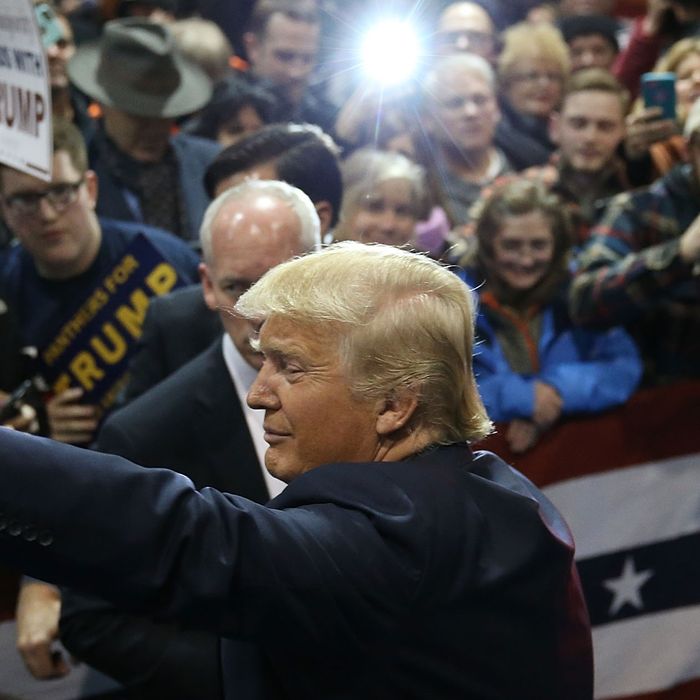 Trump couldn't pay attention to all the haters because he was busy making Cedar Falls, Iowa great again.
Photo: Joe Raedle/Getty Images
Good morning and welcome to Fresh Intelligence, our roundup of the stories, ideas, and memes you'll be talking about today. In today's edition Iran seizes the crews of two U.S. Navy patrol boats, while back home, President Obama lashes out at Donald Trump, Ted Cruz lashes out at Donald Trump, and the Republican Party lashes out at Donald Trump. Plus, Bernie Sanders closes in on Hillary Clinton, the Kochs downplay dad's old Nazi connections, and some lucky American is set to ruin their life by winning the lottery. Here's the rundown for Wednesday, January 13.
WEATHER
A combination of heavy snowfall and strong winds continues to afflict the Great Lakes and Ohio Valley. First snows were reported in Philadelphia, Washington, D.C., and Baltimore, with more on the way; New York should get its first dusting today. [Weather.com]
FRONT PAGE
Iran Hostage Crisis Sequel Is Shorter Than Original
After seizing the crews of two U.S. Navy patrol boats and accusing them of "trespassing" in Iranian waters, Iran initially said the ten sailors would be released on Wednesday. Then they said an "investigation" is underway, and the sailors should apologize, before finally deeming the incident "accidental" and releasing them. [NYT, CNN]
EARLY AND OFTEN
State of the Union: One Long Sigh
Obama used his last State of the Union address to rail against Republican front-runners Donald Trump, Marco Rubio, and Ted Cruz. He referred to them by their nicknames: "scapegoat," "quagmire," and "carpet bomb."
Entire World Turns Against Trump
President Obama isn't the only one throwing shade at the Donald. First noted Trump frenemy Ted Cruz attacked his "New York Values," and then South Carolina governor Nikki Haley knocked him on behalf of the entire GOP in her State of the Union response. [NYT]
Iowa Upset: Old White Man Finds Success in Politics
The most recent polls from the New York Times and CBS News show that Hillary Clinton's lead over rival Bernie Sanders, which was once considered insurmountable, has now dwindled to almost nothing. [NYT]
Koch Family Joins Ranks of Royal Family, Catholic Church, Hugo Boss
Employees at Koch Industries received that dreaded email from their bosses yesterday. You know, the one assuring them that the company's founder wasn't secretly in cahoots with the Third Reich. [NYT]
THE STREET, THE VALLEY
From Bad to Vorse
Volkswagen's 2016 is starting to look a lot like its 2015. California regulators have rejected the company's recall plan for vehicles found to be misrepresenting emissions. Finally, a company too corrupt for U.S. regulators. [BBC]
Trap Queen Mystery Nears Resolution
Music-streaming service Spotify has joined with the lyric-annotation site Genius, previously Rap Genius, previously three college students embarrassing themselves. Soon you can enjoy your music alongside helpful recipes for lean. [Fortune]
BP Cuts 4,000 Jobs
In the face of record low oil prices — though up a bit now, crude was going for less than $30 a barrel yesterday — BP has announced it will cut a further 4,000 jobs in oil production and exploration by 2017. [Houston Public Media]
Google Gives Up on Reality
Google is redoubling its efforts to develop virtual-reality technology, asking its VP for product management to focus solely on Cardboard and VR. Remember Google Cardboard? That thing in your New York Times you accidentally threw away last year? [TechCrunch]
MEDIA BUBBLE
Jim Rutenberg Tapped to Fill Impossibly Large Shoes
After nearly a year of searching, Jim Rutenberg — previously The New York Times Magazine's chief political correspondent — has been selected to take over influential journalist David Carr's media column for the Times. Carr died in February.
Newspapers Go Nonprofit, Profits Unchanged
In what is generously being described as a new business model, Philadelphia Inquirer, Philadelphia Daily News, and Philly.com owner H.F. Lenfest has donated his publications to the Institute for Journalism in New Media, a nonprofit he founded. That solves that.
PHOTO OP
NFL Renders Many T-Shirts Obsolete
When it rains it pours. Long without a football team of their own, Los Angeles is in line to get two teams. The NFL owners have approved the St. Louis Rams' proposal to build a $3 billion stadium in Inglewood, and they may be joined by the San Diego Chargers or the Oakland Raiders. Fans gathered to celebrate on Tuesday night at the site of the future stadium. [NYT]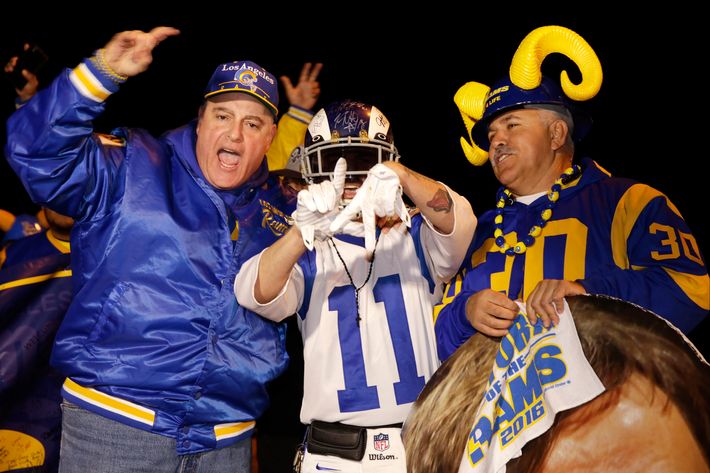 MORNING MEME
Oregon Militia Leader Freaks Out Over Hate-Mail Sausage Fest
Please stop sending plastic penises to the militia members currently occupying the Malheur National Wildlife Refuge, 36391 Sodhouse Lane, Princeton, Oregon, 97721. Seriously, not cool, guys. [Gawker]
OTHER LOCAL NEWS
Murder House Unsold Despite Spacious Basement
The Pennsylvania house used as serial killer Buffalo Bill's torture dungeon in Silence of the Lambs still hasn't sold after being on the market for more than a year. Local real-estate agents blame the house's isolated location. Isolated torture dungeons are so inconvenient. [CNET]
Police-Station Trespasser Presumed Drunk
A tailgating sports fan broke into a police station in Minnesota yesterday believing it to be his own home. He was arrested peacefully, booked, then promptly released. A clear case of boys 30-year-old men will be boys. [AP]
ON THE CALENDAR
New York DVRs in Overtime: Two Political Speeches in Two Days
Governor Cuomo has needlessly warned New Yorkers that his State of the State speech — which he plans to combine with his budget speech for a rare double-header — will be boring. Today's speech should be similar to Obama's State of the Union address without any of the fanfare, optimism, or attention paid. [NYT]
America Will Soon Be Filled With Losers
Winning numbers for the largest lottery in the history of the world will be drawn today. Hundreds of millions of Powerball tickets have been sold as people lined up to pay for a chance to win the record-breaking $1.5 billion jackpot. They will pretty much all lose. [ABC]