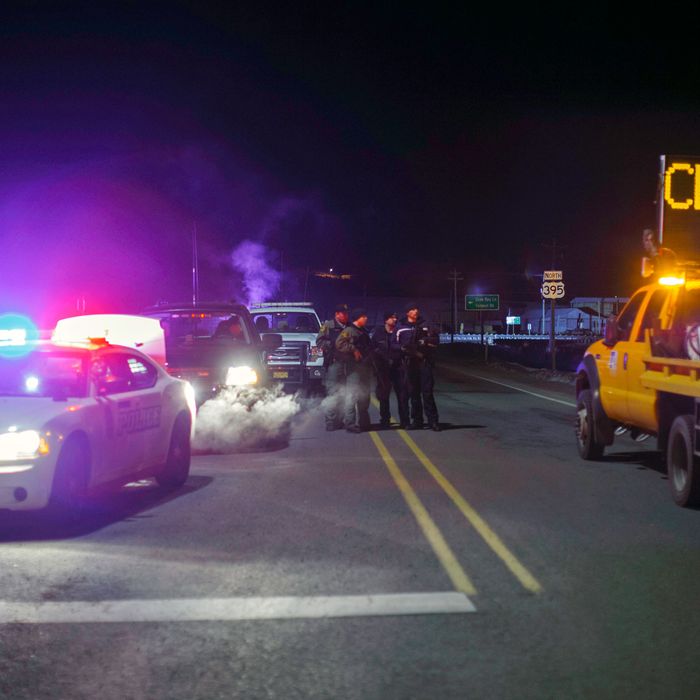 Law enforcement personnel monitor an intersection of closed Highway 395 in Burns, Oregon on January 26, 2016.
Photo: Rob Kerr/AFP/Getty Images
Good morning and welcome to Fresh Intelligence, our roundup of the stories, ideas, and memes you'll be talking about today. In this edition, authorities close in on the armed Oregon protesters, killing their spokesman; Trump backs out (but not down); and drugs plague California coyotes and Maine governors. Here's the rundown for Wednesday, January 27.
WEATHER
Severe storms are heading for Florida over the next few days, while on the coasts the weather is set to stay mild and dry. The same can't be said for the middle of the country, where cold temperatures will get even more frigid. [AccuWeather]
FRONT PAGE
Bloodshed and Arrests in Oregon-Militia Standoff
One Oregon militia member has been killed and eight others have been arrested following a confrontation with the authorities at a traffic stop yesterday afternoon. Among the arrested are brothers Ammon and Ryan Bundy, who led the occupation of a federal building. Ryan sustained a minor gunshot wound and sources say the group's spokesperson, Robert "LaVoy" Finicum, is the man who was killed. It's unclear what prompted the shooting.
EARLY AND OFTEN
For Once Trump Wasn't Bluffing
It's official: Donald Trump's campaign has announced that he will not be taking part in Thursday's Republican debate hosted by Fox News. The move comes after Trump threatened to back out if Fox CEO Roger Ailes wouldn't ditch his longtime nemesis Megyn Kelly as moderator. We'd say Trump's worried about Kelly embarrassing him at the debate, but so far gaffes have only made him stronger.
Hillary Proposes Most Unpleasant Confirmation Hearing in History
Fielding questions on the campaign trail yesterday, Hillary Clinton said that appointing President Obama to the Supreme Court would be a "great idea." Just what Obama wants: a lifetime of fighting over politics. [ABC]
Birds of a Feather Endorse Each Other
Militant anti-immigration public figure sheriff Joe Arpaio of Arizona has endorsed — you guessed it, Donald Trump for president. It's another important step in Trump's "alienate every Latino voter" campaign strategy. [NYT]
Maine Governor LePage Addicted to Bad Press
Feeling devoid of the craziness currently gripping the national political scene, Maine governor Paul LePage tried to grab the spotlight for himself yesterday by suggesting drug dealers deserve the death penalty, or at the very least, life sentences. "What we ought to do is bring the guillotine back. We could have public executions and we could even have which hole it falls in," he said. He also proposed giving dealers "an injection of the stuff they sell," which doesn't seems so bad, especially considering the options.

THE STREET, THE VALLEY
Apple Not Falling Far
Apple's long-awaited first quarter earnings are in and they're all over the place. The company announced record profits, but revenue and sales of iPhones, iPads, and Macs were lower than expected. Apple CEO Tim Cook said he thinks sales will decline further in the second fiscal quarter. [CNBC]
Consumer Confidence Up, Consumers Apparently Not Reading News
Consumer confidence is at a three-month high, despite turbulent world markets and sliding domestic stocks. Another report showed home prices in 20 U.S. cities accelerated in November, but nationally they are still 4.8 percent below the record level set in July 2006. [Bloomberg]
Bop Its! Are the Absolute Best; Taxis Stand No Chance
In the best idea to come out of Silicon Valley since the personal computer, Uber is rolling out a new innovation to deal with drunk and disorderly passengers: putting a Bop It! in the back seat. Bop Its! are attention-grabbing, but giving angry drunks brightly colored cudgels may turn out to be a bad idea.

From Now on Google Glass Will Only Exist in Nostalgic Listicles
Google's much commented-on foray into wearable tech has been defunct since last year, and yesterday the social-media sites associated with the technology also went dark. Now we'll all have to go back to staring at our phones constantly, like God intended. [Reuters]
MEDIA BUBBLE
Now Microsoft Is Stealing Apple's Questionable Ideas, Too
Microsoft has announced a new news-aggregation app set to compete with the possibly popular Apple News and the very popular Flipboard apps. Called News Pro, the app links readers to articles curated to their interests and is powered by Bing, which is not a great sign. [TechCrunch]
Twitter Appoints American Express Executive
It turns out the rumors were true. Struggling tech-giant Twitter has appointed Leslie Berland, a career executive at American Express, as the company's new chief marketing officer. The appointment was announced by Twitter CEO Jack Dorsey in a tweet. See? Still relevant. [Recode]
PHOTO OP
Most Prolific Protester in U.S. History Dies
Concepción Picciotto, who has been holding a vigil in front of the White House for decades, died yesterday at 80, after years of poor health. Her presence and "Live by the Bomb, Die by the Bomb" placard were familiar to anyone who's visited the capital. In recent years, other activists have been pitching in, and they were manning the site on Tuesday. [WaPo]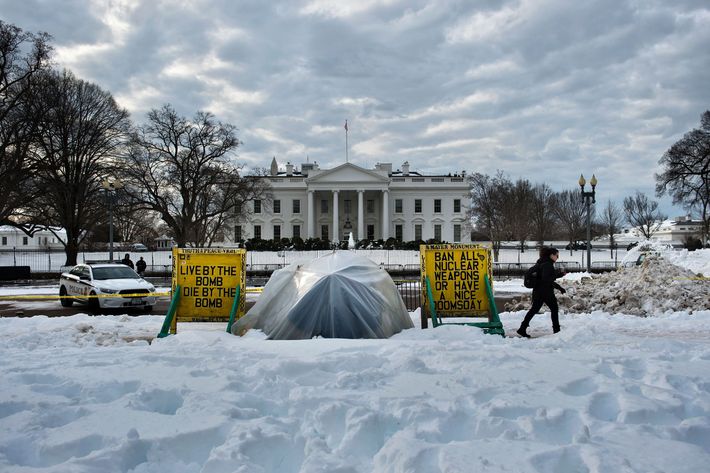 MORNING MEME
Does any kid love Donald Trump more than the Donald Trump dancers? Yes, and her name is Ava Lovley. As shown in the video below, the 9-year-old from Newport, Maine, freaked out upon learning that she'd be attending one of her idol's rallies. Ava has taken a keen interest in Trump's campaign, though her family isn't very political. "She said she loved his hair and that he speaks his mind," her mother explained. [WaPo]
OTHER LOCAL NEWS
Florida Animal Encounter Is Surprisingly Cute
A 100-year-old woman in Miami woke to find a rare, exotic, jungle creature sleeping on her chest. As it turns out, the kinkajou — which is adorable, Google it — is somebody's pet and answers to the name Banana. Florida, it's a different world down there. [NBC Miami]
Bay-Area Coyotes Get High, Attack Cars
An eccentric coyote has been stalking, stopping, and attacking cars in Bolinas, just north of San Francisco. The behavior is so unprecedented that experts are exploring the possibility that the coyote has been dabbling in magic mushrooms. Or maybe it's the humans. Either way, someone's definitely on drugs. [SFist]
HAPPENING TODAY
Yellen's Next Move Watched With Interest
The Federal Reserve's Open Market Committee is set to release a statement on Wednesday afternoon following a two-day meeting in D.C. The Fed is expected to address the recently changed economic landscape and set the stage for a promised interest-rate change down the line. [Bloomberg]
American Socialist Convention
President Obama will meet with presidential hopeful Bernie Sanders today at the White House. Obama gushed about Hillary Clinton in a Politico interview earlier this week, but here's hoping the meeting won't be too awkward. [The Hill]