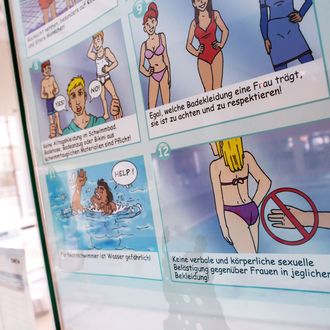 Bornheim will extend its
nein
indefinitely.
Photo: Sven Hoppe/AFP/Getty Images
The city of Bornheim, in western Germany, has banned all male asylum-seekers older than 18 from its one public pool, the Washington Post reports. Officials announced the ban after a number of sexual-assault cases were reported there. Markus Schnapka, the city's head of social affairs, said that no one has been charged in the assaults but that the ban will remain in place until "the message has come across." Bornheim is host to about 800 refugees — just a fraction of the many thousands residing in Germany who've fled Syria and surrounding countries.
Schnapka announced the decision in person at a local refugee center; Bornheim also plans to hold meetings to discuss things like sexual-assault prevention and respect for women. "I know that I do an injustice to most people, but I do not see an alternative way to send this clear message," Schnapka said.
The city's announcement comes as the German city of Cologne is still reeling from more than 100 reports of sexual assault on New Year's Eve. As of last week, 31 people were under investigation in those attacks, 18 of whom are asylum-seekers or migrants. Police reports from the chaotic scene indicate one man claimed to be Syrian, but the group of men called in for questioning also includes Algerians, Moroccans, Iranians, Iraqis, and Germans.
Reactions to the New Year's Eve assaults have been largely mixed, but many blame Chancellor Angela Merkel's pro-refugee policy for the uptick in sexual assaults. "I am embarrassed for my fellow believers," an unnamed refugee reportedly told a local TV station in Bornheim. "Such things must not happen."