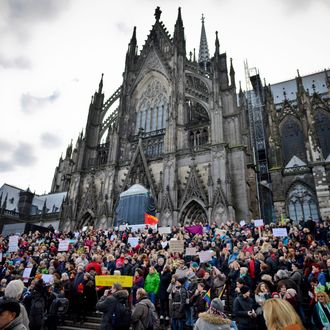 Protesters gather in front of Cologne Cathedral to protest against the New Year's Eve attacks on January 9.
Photo: Sascha Schuermann/Getty Images
This weekend, several different groups preaching very different messages converged on Cologne. There were anti-migrant protesters, angry about the government's decision to let in so many refugees after the assaults in the German city on New Year's Eve. Water cannons were used to disperse the crowd of nearly 2,000 people, some of which threw beer bottles or firecrackers at the police. According to the AFP, attendees chanted, "Merkel must go," and at least one banner said, "Rapefugees not welcome." One protester, a right-wing politician, told The Financial Times, "All Muslim immigration must stop . . . We cannot integrate Islamist fascists."
Other protesters gathered to greet the right-wing group with a message opposing xenophobia, another group — mostly women, per Reuters — carried signs that said things like, "No means no. Keep away from our bodies." There were more than 1,000 counter-protesters. 
There were about 1,700 police officers on duty during the protests — far more than were patrolling on New Year's Eve, when hundreds of women were assaulted or robbed by drunk men.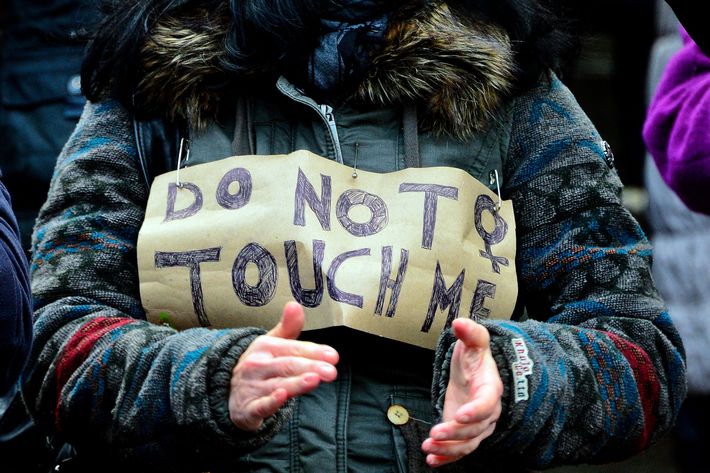 More than 500 women have filed reports after the widespread attacks in Cologne, and at least 40 percent of those reports deal with sexual assault. Another 133 women filed criminal complaints in Hamburg for assaults that happened on New Year's Eve. The attackers were repeatedly described as looking North African or Arab — hence the protests and the waves of fingers pointing toward Chancellor Angela Merkel, blaming her and her migrant policy for causing that terrifying night.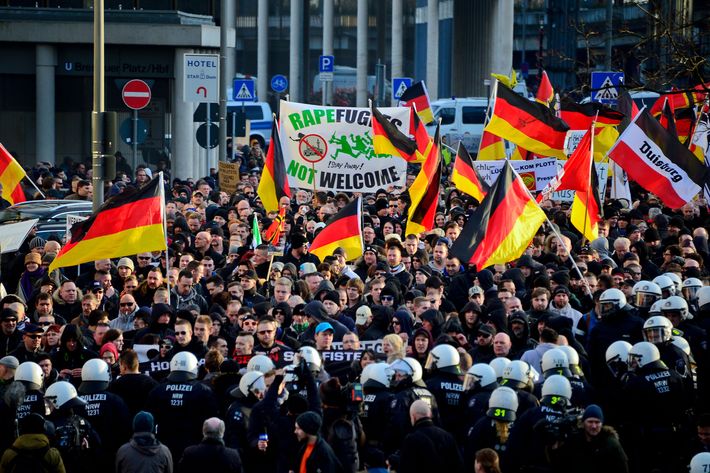 Merkel was scheduled to attend the Davos World Economic Forum later this month, but canceled the trip in order to deal with what is sure to be a long and protracted political battle on the home front. 
On Friday, the police chief in Cologne was fired, and Merkel has proposed legislation that would make it easier to deport migrants who break the law. However, she added that she does not plan to stop accepting refugees, a stance that Pope Francis basically endorsed on Monday. 
"The present wave of migration seems to be undermining the foundations of that 'humanistic spirit,' which Europe has always loved and defended," he said, "yet there should be no loss of the values and the principles of humanity, respect for the dignity of every person … however much they may prove, in some moments of history, a burden difficult to bear."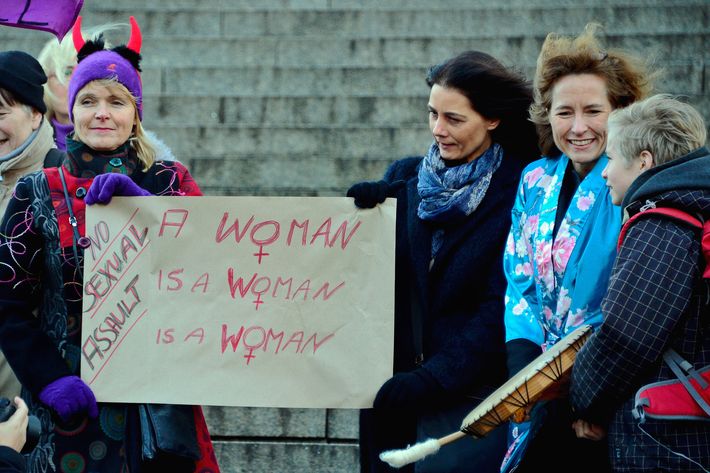 More information about the attackers was released on Monday; State Interior Minister Ralf Jaeger reports that 19 suspects are currently being investigated, according to the BBC. Nine of the suspects are believed to be in Germany illegally, while the other ten are asylum seekers. None are German citizens. "After the intoxication with drugs and alcohol came violence," Jaeger added. "It culminated in the acting out of fantasies of sexual omnipotence. That must be severely punished."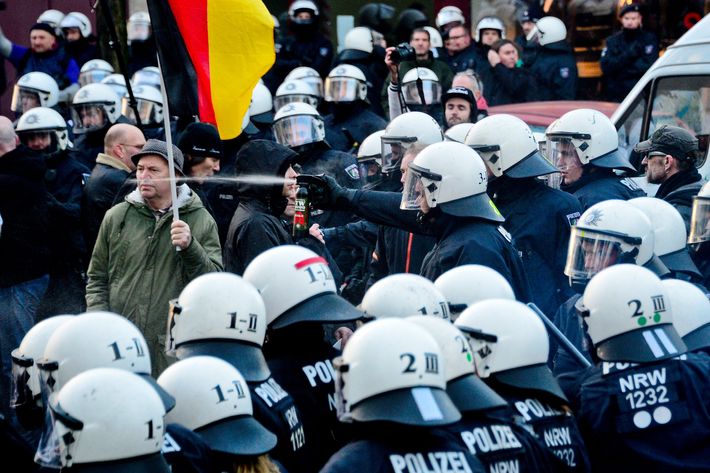 Justice Minister Heiko Maas added to German newspaper Bild am Sonntag, "No one can tell me that it wasn't coordinated and prepared. My suspicion is that this specific date was picked, and a certain number of people expected. This would again add another dimension [to the offending]." According to AFP, Bild am Sonntag also reported that "some North Africans had sent out calls using social networks for people to gather in Cologne on New Year's Eve."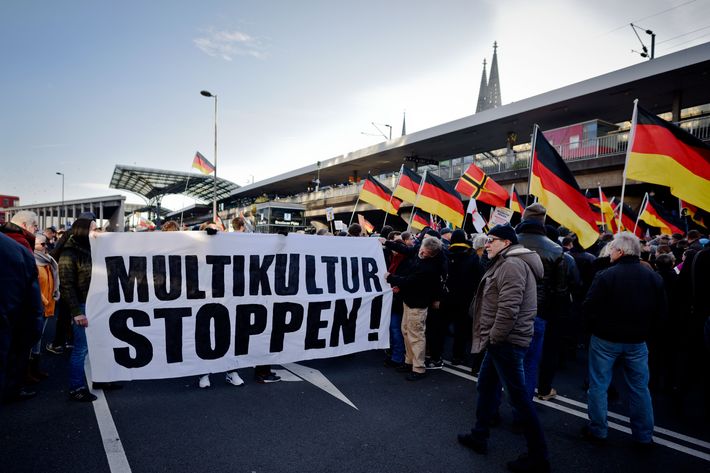 The attacks have also proved to be a catalyst for more violence. According to the New York Times, six Pakistani nationals were attacked by about 20 people in Cologne on Sunday. Two were sent to the hospital. In other separate incidents in Cologne, a Syrian man and a group of Africans were also attacked. The Guardian adds that "local newspaper Express reported that the attackers were members of gangs who arranged via Facebook to meet in downtown Cologne to start a 'manhunt' of foreigners."
"As abominable as the crimes in Cologne and other cities were, one thing remains clear," Maas said this weekend. "There is no justification for blanket agitation against foreigners." One Syrian man in Cologne told BuzzFeed, "I'm very worried we will be attacked … I don't have any problem with Germans – many have welcomed me here and helped me integrate into the country – but many have problems with me and others, because we are from a different country … The criminals, they are giving us new problems. They are making it harder for us, making it worse. This makes me more sad."
And, as Vice noted in a story last week, sexual assault was a problem at big events in Germany long before the migrant crisis began.
Sexual assaults and even rape happen every year at big events like Oktoberfest. "The way to the toilet alone is like running the gauntlet: within 50 feet, you can be sure to tally three hugs from drunken strangers, two pats on the ass, someone looking up your dirndl, and some beer purposely splashed right down your cleavage," wrote Karoline Beisel and Beate Wild in 2011, in the Süddeutsche Zeitung. An average of ten reported rapes take place each year at Oktoberfest. The estimated number of unreported cases is 200.

A 2004 study on the living conditions, security, and health of women in Germany, showed that 13 percent of German women have experienced a form of criminal sexualized violence.