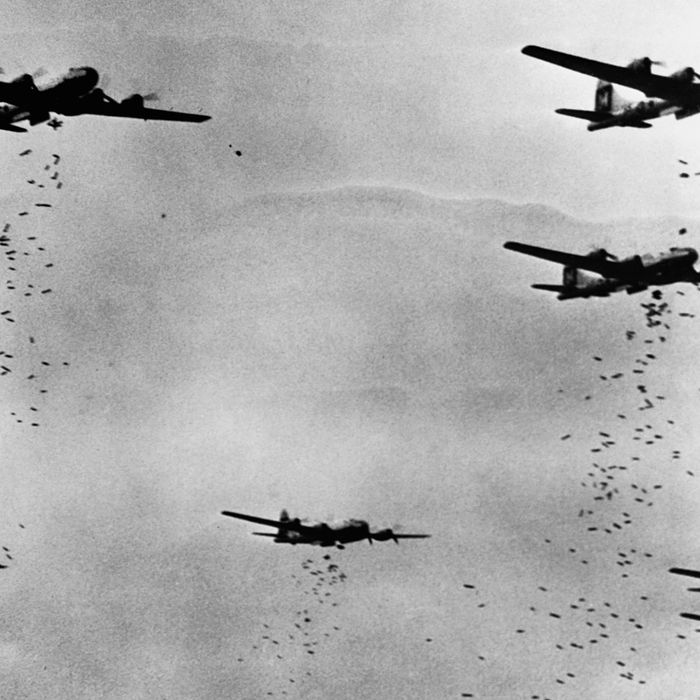 Candidates with money to burn and nothing to lose could launch a real air war of negative ads.
Photo: Corbis
Donald Trump has made a habit of putting down his Republican rivals with personal insults, and there's been some skirmishing involving Bush, Rubio, and Cruz. But the kind of massive and highly targeted air strikes that characterized Mitt Romney's lethal attacks on Rick Perry, Newt Gingrich, and Rick Santorum in the 2012 presidential cycle have by and large been missing. 
That's about to change, according to Jonathan Martin of the New York Times, who is predicting a hailstorm of negative ads between now and the February 1 Iowa caucuses. 
Supporters of Senator Marco Rubio, Senator Ted Cruz, Jeb Bush, Rick Santorum, and Mike Huckabee are poised to unleash a wave of ferocious attacks this month, according to Republicans familiar with their planning, plunging the muddled contest into a multidimensional war in the coming weeks.
You're going to see even sharper elbows" starting this week, said Jon Seaton, a Republican strategist not affiliated with any of the campaigns. "And by the middle of January, everybody will have their pads on and helmets buckled."
Ted Cruz has eschewed the standard football analogies for political violence and gone with a religious metaphor, as one might expect from the self-styled champion of Christian soldiers:
"Strap on the full armor of God," he told supporters in a conference call on Thursday. "Come the month of January, we ain't seen nothing yet.
But one of Cruz's super-pacs stuck with football in a new ad (using some humorous footage released by Team Rubio showing its candidate pretending to be focused on fantasy football instead of stressing over a debate) challenging the Floridian's seriousness in the face of multiple threats to national security. It's probably just the beginning of a wild multi-candidate onslaught.
By month's end, the candidates and their allied groups could spend as much as $100 million combined, much of it on negative advertising delivered via television, radio, mailers and digital spots. And after the effectiveness of positive television commercials came under question last year when tens of millions of dollars failed to lift Mr. Bush, January will offer insights into whether attack ads still have the power they did in past presidential elections.
Speaking of Jeb Bush, his super-pac, Right to Rise, the purveyor of those failed positive ads, is almost certain to go negative with a big chunk of its remaining $50 million to $60 million. Like Jeb, John Kasich and Chris Christie (the latest Establishment champion to show some momentum) are in a life-and-death battle for survival in both Iowa and especially New Hampshire, and are likely to go after each other and fellow Establishment vehicle Marco Rubio (already under attack from Team Jeb over his Senate attendance record). Rubio and Cruz have been tangling over immigration policy in an increasingly fractious manner. And Huckabee and Santorum might as well fling their remaining resources at Cruz, who is gobbling up the very conservative Evangelical voters on which both have relied in the past.
The one candidate nobody's talking about going after is the one who's leading the polls nearly everywhere other than Iowa: Donald Trump. Martin calls it a "de facto non-aggression pact" toward Trump, and suggests it reflects a fear of the old murder-suicide dynamic helping candidates left out of the fray, along with hopes that Trump supporters who look so powerful in the polls won't actually show up to vote. You can make a case that in the long run the biggest threat to Trump is a consolidation of voters behind one or two other candidates. So maybe a little strategic bloodletting and controlled gore that "winnows" the field is just what the doctor ordered. If not, and the demagogic tycoon soars above the battleground even higher, it will soon be time for a full-on Republican Establishment/movement conservative freak-out, and we'll see some negative ads that will make your toes curl.