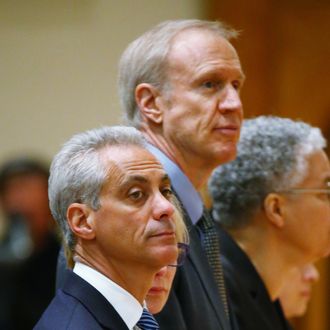 Rahm Emanuel and his so-called friend Bruce Rauner.
Photo: Pool/2015 Getty Images
Illinois governor Bruce Rauner and Chicago mayor Rahm Emanuel are longtime friends and business partners, so one might expect Rauner to offer some words of encouragement as his buddy deals with the fallout from the fatal police shooting of 17-year-old Laquan McDonald. Instead, Rauner panned the performance of Emanuel and Cook County state's attorney Anita Alvarez during an unrelated press conference on Monday. "I am very disappointed in the mayor and in the state's attorney for Cook County; very disappointed," he said. "I'm not going to say more than that right now, because there's a lot of investigation going on, but I'm very disappointed."
Protesters have been calling for Mayor Emanuel's resignation for weeks, and last month Democratic state representative La Shawn Ford introduced legislation that would create a mechanism for recalling the mayor. "I've not studied the bill that's been proposed, but what I've been informed about it, based upon that, I would sign that bill," the governor said.
Polls suggest Emanuel's approval rating is around 18 percent, but it still seems unlikely that the mayor will be recalled. While the original proposal said the recall bill would be "effective immediately," the governor said his legal team advised him that the measure could not apply to sitting elected officials. Plus, Democratic leaders in the legislature don't appear interested in passing the legislation. So luckily for Rauner, he'll probably only have to approve his buddy's ouster in theory.