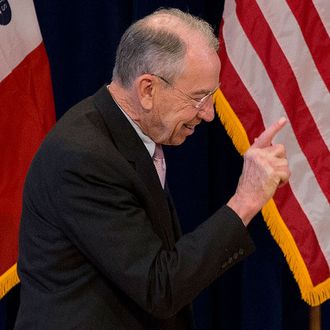 Six-term senator Chuck Grassley didn't endorse the Donald, but a warm intro signaled his acceptability.
Photo: Mary Altaffer/Corbis
So let's say you are a Republican running for president in Iowa. Which validation would you rather obtain? The endorsement of the state's dominant statewide newspaper, the Des Moines Register? Or an introduction at one of your Iowa rallies by six-term U.S. senator Chuck Grassley?
If you are Donald Trump, I'd say the sudden apparition of the boringly conventional Grassley at a Trump rally in Pella, in which the senator repeated Trump's "Make America great again" slogan, was about as large a symbolic gesture as possible that Trump is now a fully accepted Republican, no matter what National Review says. 
Meanwhile, the recipient of the Register's nod, Marco Rubio, downplayed it like a 10-year-old boy receiving an embarrassing playground kiss. The paper may seem like the corporate-chain voice of conventional goo-goo centrism to most of us, but in the conservative imagination it's a tribune of godless socialistic liberalism, and much to be avoided. It also doesn't have the best record of boosting candidates in Iowa: Its endorsees in 2000 (John McCain), 2008 (ditto), and 2012 (Romney) did not win the caucuses, though the last two did win the nomination. 
Rubio, however, may be able to have his cake and eat it, too. Grassley did not actually endorse Trump, and his people made it clear he's appeared with other candidates before, and will appear with others between now and caucus night — most notably with Rubio next Saturday. 
But I'd bet a corn dog that Grassley does not find time to hang out publicly with Trump's strongest Iowa rival and his own Senate colleague, Mr. Cruz. And politically savvy Iowans will notice.