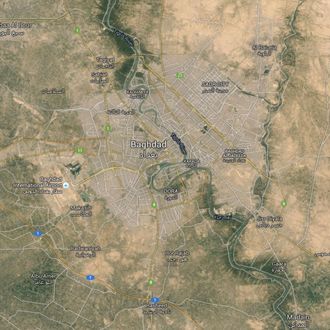 A car bomb went off outside a mall in Baghdad on Monday, killing at least 18 people and wounding more than 20. Iraqi officials said that a child was among those killed, and the AP adds that four police officers were reportedly killed.
After the bomb went off, gunmen stormed the Jawhara Mall in a Shiite neighborhood in the eastern part of the city, where as many as 50 people could have been trapped. "When the security forces got too close, they killed three hostages," one Iraqi official told the AFP. 
Reuters adds that seven people were killed by the car bomb, "[f]ive more people were shot dead by the gunmen storming the mall, and six others were killed when those same assailants detonated their explosive vests."
After a battle with police officers that lasted about 90 minutes, according to the AP, security forces said they had control of the building and that the gunmen had been killed or had blown themselves up. Heavy gunfire and grenade blasts were also reportedly used during the attack.
ISIS, which has suffered some losses in Iraq lately — most notably when they lost control of the city of Ramadi — claimed responsibility for the attack. More than 22,000 civilians were killed in Iraq last year, according to the U.N.
Another car bomb earlier in the day — another attack claimed by ISIS — killed at least 20 people in Muqdadiya, north of Baghdad, according to The Wall Street Journal. Altogether, at least 48 people were killed in attacks in Baghdad and surrounding cities on Monday, per Reuters.
After the mall attack, parts of the city, including the Green Zone, were shut down to help prevent any further possible attacks. 
This post will be updated as more news is available.