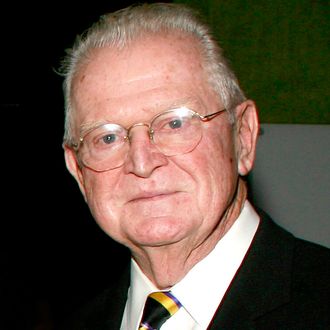 "Drugs have won," Kennedy wrote in a 2015 op-ed.
Photo: Sylvain Gaboury/Patrick McMullan
Michael Kennedy, the man who defended High Times founder Thomas King Forcade from drug-smuggling charges (and won) and also the man responsible for Ivana Trump's divorce from Donald, died Monday at Memorial Sloan Kettering Cancer Center. He was 78.

He had mostly worked as a radical lawyer, so Kennedy's friends were surprised when he took on Ivana Trump's case in 1991, but clearly she knew something they didn't: The former Mrs. Trump ended up with a rumored $25 million. "I'm ruthless," he told New York the year the case was settled. "You have to be a courtroom killer to be effective." You can read all of Michael Gross's 1991 profile of Kennedy here.
Kennedy was an active proponent of marijuana legalization, representing Forcade in multiple cases throughout his career. "Another citizen snatched from the jaws of justice," Kennedy wrote of Forcade's 1973 trial the year they met. "The wasteful, mindless and brutally destructive war on drugs was lost long ago. Drugs have won."