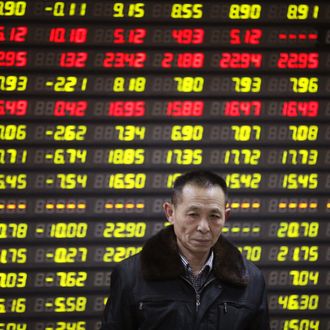 Photo: Zhengyi Xie/Corbis
Concern over China's stock market is catching. Yesterday, the Hong Kong dollar posted its largest two-day decline since the first Bush administration, thanks to a fall in Chinese stocks that's led to dire financial predictions for the new year. According to Bloomberg, the local dollar lost 0.15 percent yesterday, taking its two-day drop to 0.4 percent — which, though it sounds modest, is a big shift for this typically immobile currency, and is its largest fall since October 1992.
There's been speculation that the peg linking Hong Kong's dollar to the U.S. dollar will be removed (the city's exchange-rate system limits declines against the U.S. dollar to HK$7.85 and caps gains at HK$7.75), but officials say no such change will take place. The government is "fully committed to maintaining the linked exchange-rate system, which continues to serve Hong Kong well," a Hong Kong Monetary Authority spokesperson told Bloomberg. "We see no need and have no intention to change the system."
The Hong Kong dollar's nosedive comes as China enters its third bear market (defined as a 20 percent drop in a recent peak) in less than a year, Quartz reports. Today the country's key stock indicator, the Shanghai Index, fell 3.5 percent, reaching its lowest level since December 2014.
"Equities and credit have become very dangerous," Royal Bank of Scotland credit chief Andrew Roberts wrote in an ominous note to investors earlier this week. "China has set off a major correction, and it is going to snowball." 
Sure, blame China, but the real cause of Hong Kong's distress is likely the wild boar that's been loose in the city's financial district for hours, evading police and distracting finance workers.