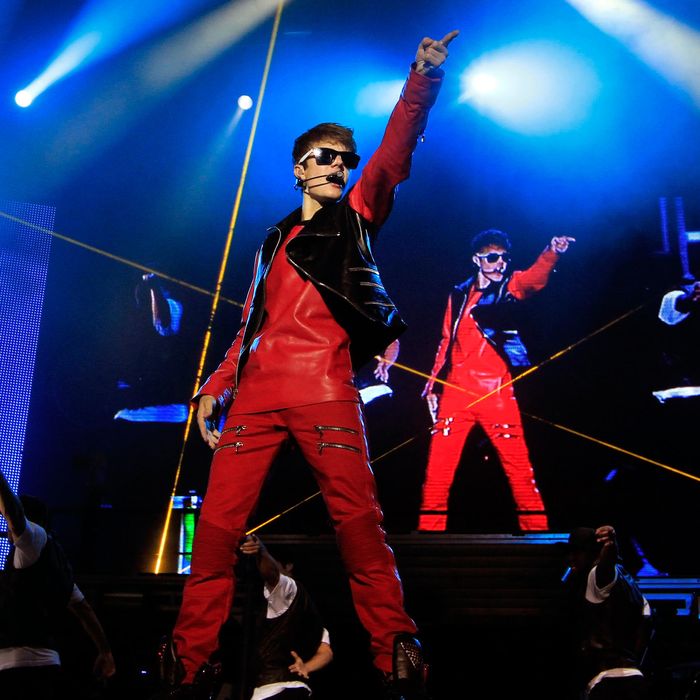 Justin Bieber performs during his My World Tour concert at Morumbi Stadium in São Paulo, October 8, 2011.
Photo: Nacho Doce/Reuters/Corbis
The ritual of call and response is an ancient and almost instinctive behavior. It's no accident that it shows up as a form in observances that extend far back beyond modern technology: religion, music, athletic events, even greeting. "Dominus vobiscum." "Et cum spiritu tuo." "As-salaam alaikum." "Wa-alaikum as-salaam." "Thank you @JLo for having me at opening night. Incredible show. Thanks and congrats." "Come to Brazil."
"Come to Brazil": Look in the replies to any tweet or video from any pop star or teen idol, and you will see the most recognizable phrase on celebrity internet. "Come to Brazil": Three simple words that have embedded themselves deep in the heart of the internet's fandom culture as the automatic, immediate response to anything published by certain celebrities. "Come to Brazil": The last inevitability in a disrupted world.
"Come to Brazil" is popular and well-known enough to be a widely used punch line — but its regularity also has the odd effect of occluding it, turning it from a semantically meaningful phrase into a kind of shibboleth. It's probably worth starting off by saying what "Come to Brazil" is not. It is not a code word. There is no hidden meaning behind "Come to Brazil." It is a command or a request. "Come to Brazil" literally means "Come to Brazil."
Dani, a Brazilian Twitter user who regularly asks celebrities (now mostly Vine stars) to come to Brazil, put it to me simply: "Brazilians fans do that because we want our idols in Brazil."
The origins of the phrase are easy enough to trace. The very first time "Come to Brazil" was posted on Twitter was April 2008, when user @cecilab invited Loic Le Meur, head of defunct app Seesmic, to the South American country.
LeMeur, not quite the pop-star type who would soon be on the receiving end of the refrain, did not respond.
(Twitter, of course, is the easiest place to track "Come to Brazil" usage. The request is prevalent on YouTube and Facebook as well, but its path is  less easily traced. Facebook's kludgy sliding scale of public-private makes tracking the phrase difficult. The murky swamp of comments that exists below every YouTube video offers a similar conundrum. To be clear, "Come to Brazil" is popular on those websites as well. I briefly thought about diving into Orkut, Google's early attempt at a social network, before realizing that it was only popular in Brazil, thus making it useless for communicating with celebs.)
An analysis of the next year of "Come to Brazil" mentions on Twitter (as well as its alternative Brasil spelling) shows a slow and steady rise in frequency, imploring acts like Madonna and Blink-182 to visit the country.
Up until mid-2009, one could search through the appearances of "Come to Brazil" in any given month with relative ease. But around June 2009, usage suddenly picks up a lot of steam. The summer of 2009, in particular, was a tipping point for Twitter. Protests had erupted in Iran contesting the results of recent presidential elections; the so-called Green Movement was described by The Atlantic as "the first major world event broadcast worldwide almost entirely via social media."
Also, in March, a young upstart pop singer named Justin Bieber joined the service.
It might seem long ago, but nearly a decade ago, Bieber was a wholesome Canadian crooner plucked straight from YouTube by Usher himself. Bieber's real genius was his casual and frequent use of social media — a connection that gave his millions of fans the genuine sense that they could talk to him via the internet. Bieber made Twitter, as much as any one person not directly employed by the company can be said to have: In 2010, a Twitter employee claimed that 3 percent of the platform's servers were dedicated to Bieber at any given moment.
Bieber sent his first tweet in May. It would be patently ridiculous for me to equate the Green Movement with Bieber fans tweeting "Come to Brazil," but it would not be out of line to say that the movement helped cement Twitter's reputation as an effective tool for organizing young people, demanding attention from elites, and communicating across vast distances.
On June 16, 2009, Justin Bieber got the call: "Come to Brazil."
Somewhere along the way, Brazil's thirst for celebrity attention caught the attention of non-Brazilian social media users. The celebrity gossip blog Oh No They Didn't has a tag devoted to the topic of celebrities visiting the country, and Tumblr users picked up on the fervency of Brazilian fandom.
The desperation of Brazilian pop-culture fans is so acute, according to Lucas Armiliato, a student and graphic designer, that fans will basically settle for anything. "In my opinion, part of the 'Come to Brazil' 'phenomenon' started because we'll literally like anyone that comes here. … I mean, the media even covered Sharon Stone's visit."
Moara Juliana, a São Paulo resident and layout designer at a small publisher, explained to me that the rise of "Come to Brazil" stems from the simple fact that celebrities don't often visit the country. "This 'please come to Brazil' thing is usually said (unironically) by teens trying to get their fave artists to come here," she said. "We are heavy consumers of foreign (specifically American) culture: tv shows, bands, etc. And we expect these people to come here so we can see and meet them … BUT! They take too long to come! My mom (who is 55) waited like 20 years to see U2 and Paul McCartney, her favorite music."
Plus, as Dani pointed out, "it's hard for some people in Brazil go to the USA or London or Canada, etc." She added that there is a slight sense that Americans, simply by living in the same cities as celebrities, have a greater chance of interacting with them. "We don't have this chance to meet our idol in the streets, so sending tweets, it's like our way to be noticed."
The thing is that "Come to Brazil" does actually work. In July of 2014, Ariana Grande posted this message.
Juliana said that some celebrities do get the message. "Misha Collins from Supernatural, he saw he has a lot fans here, started making posts to Brazilian fans, posting in Portuguese and everything, and every now and then he comes here."
Dani was similarly excited that the tactic brought her idols to the country. Selena Gomez and the aforementioned Misha Collins visited Brazil, as have Vine stars like Jack and Jack and Taylor Caniff. When Caniff visited, she said, "I couldn't see them but i was really happy bc THEY WERE IN MY COUNTRY hahaha."
Dani said that it definitely seemed like more celebrities were passing through Brazil than was the case five years ago. For Brazilian fans, all of that hard work does eventually pay off.